Outreach
We would be happy to support your organization or facility by visiting you to:
Teach a library-related skill or resource (e.g., downloading ebooks, accessing medical information in our databases)
Provide basic computer training
Provide a program (e.g., book discussion)
Promote and explain library services and collections that would be of interest to you
Support your existing programming with displays, resources and information
If you would like to arrange for any of these outreach services, please contact your local branch at 905-653-READ (7323).
---
Book Deposits
Your organization or facility can arrange to have a selection of books and materials delivered to you. If you would like to know more about this service, please contact your local branch at 905-653-READ (7323).
---
Magnifiers
Magnifiers that also serve as bookmarks and rulers can be purchased at the service desk for $1.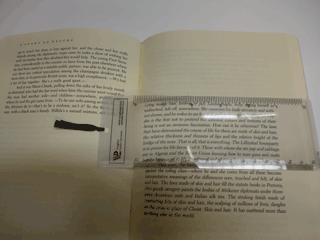 Pre-programmed Searches
---
Magazines Geared towards Adults 65+
---
Catalogue Search Help
The following words may help you when searching for materials about older adults in the Library Catalogue:
Try adding an additional word or two to one of the above terms in order to specify your particular subject of interest. The order of the words does not matter in the Catalogue search box.
Some examples:
aging prevention
parents aging
older people care
older people computers
health older people
psychology older people
travel older people
For additional help, please contact a library staff member at your local branch at 905-653-READ (7323) or via email by using the email librarian form.
There is no program currently available.