Hiya Geeklings?  How's your May going so far?
In addtition to all the other fun stuff happening this month (like AniMay, more on that in a couple weeks), today let's talk about a seldom seen side of the month… MerMay!
What the heck is that, you may ask?  Simply put, it is a month-long celebration of mermaids and it encourages artists to draw their best under sea dwellers and post them online.  As you can see, the results are super cool!  It tickles that tween me who fell in love with The Little Mermaid and wanted to swim with Ariel under the sea.
So in honor of the occasion, here are a few Mermaid-themed YA books to get you reading and dreaming… and not all happy pretty dreams, either.
The Seafarer's Kiss by Julia Ember – A heady mix of mermaids, Vikings and Norse mythology.  "Having long wondered what lives beyond the ice shelf, nineteen-year-old mermaid Ersel learns of the life she wants when she rescues and befriends Ragna, a shield-maiden stranded on the merfolk's fortress. But when Ersel's childhood friend and suitor catches them together, he gives Ersel a choice: Say goodbye to Ragna or face justice at the hands of the glacier's brutal king.Determined to forge a different fate, Ersel seeks help from the divine Loki. But such deals are never straightforward, and the outcome sees her exiled from the only home and protection she's known. To save herself from perishing in the barren, underwater wasteland and be reunited with the human she's come to love, Ersel must try to outsmart the God of Lies."
Deep Blue by Jennifer Donnelly – Book one of the Waterfire Saga.  "When Serafina, a mermaid of the Mediterranean Sea, awakens on the morning of her betrothal, her biggest worry should be winning the love of handsome Prince Mahdi. And yet Sera finds herself haunted by strange dreams that foretell the return of an ancient evil. Her dark premonitions are confirmed when an assassin's arrow poisons Sera's mother. Now, Serafina must embark on a quest to find the assassin's master and prevent a war between the Mer nations."
Fathomless by Jackson Pearce – "Celia Reynolds is the youngest in a set of triplets and the one with the least valuable power. Anne can see the future, and Jane can see the present, but all Celia can see is the past. And the past seems so insignificant — until Celia meets Lo.
Lo doesn't know who she is. Or who she was. Once a human, she is now almost entirely a creature of the sea — a nymph, an ocean girl, a mermaid — all terms too pretty for the soulless monster she knows she's becoming. Lo clings to shreds of her former self, fighting to remember her past, even as she's tempted to embrace her dark immortality.  When a handsome boy named Jude falls off a pier and into the ocean, Celia and Lo work together to rescue him from the waves. The two form a friendship, but soon they find themselves competing for Jude's affection. Lo wants more than that, though. According to the ocean girls, there's only one way for Lo to earn back her humanity. She must persuade a mortal to love her . . . and steal his soul."
The Twice Lost by Sarah Porter – "Mermaids have been sinking ships and drowning humans for centuries, and now the government is determined to put an end to the mermaid problem–by slaughtering all of them. Luce, a mermaid with exceptionally threatening abilities, becomes their number-one target, hunted as she flees down the coast toward San Francisco.  There she finds hundreds of mermaids living in exile under the docks of the bay. These are the Twice Lost: once-human girls lost first when a trauma turned them into mermaids, and lost a second time when they broke mermaid law and were rejected by their tribes. Luce is stunned when they elect her as their leader. But she won't be their queen. She'll be their general. And they will become the Twice Lost Army–because this is war."
The Vicious Deep by Zoraida Cordova – "He was gone for three days. Sucked out to sea in a tidal wave and spit back ashore at Coney Island with no memory of what happened. Now his dreams are haunted by a terrifying silver mermaid with razor-sharp teeth.  His best friend Layla is convinced something is wrong. But how can he explain he can sense emotions like never before? How can he explain he's the heir to a kingdom he never knew existed? That he's suddenly a pawn in a battle as ancient as the gods?  Something happened to him in those three days. He was claimed by the sea…and now it wants him back."
Hannah by Kathryn Lasky – "Hannah Albury is not like other girls in the turn of-the-century Boston orphanage where she grew up. Instead of seasickness, she gets land-sickness. Billowing waves exhilarate her, but flat plains away from the ocean leave her dried out, parched, and ill. She leaves a ring of salt in the tub when she bathes, and sometimes she sees a faint tracing of scales on her delicate feet. It's freakish, horrifying and deeply thrilling.As Hannah becomes a young woman, she can sense that a powerful change is coming. A choice lies ahead, and Hannah must discover if she is a creature of the land–or of the sea."
Tangled Tides by Karen Amanda Hooper – "Yara Jones doesn't believe in sea monsters–until she becomes one. When a hurricane hits her island home and she wakes up with fins, Yara finds herself tangled up in an underwater world of mysterious merfolk and secretive selkies. Both sides believe Yara can save them by fulfilling a broken promise and opening the sealed gateway to their realm, but they are battling over how it should be done. The selkies want to take her life. The merfolk want something far more precious. Treygan, the stormy-eyed merman who turned Yara mer, will stop at nothing and sacrifice everything to protect his people–until he falls for Yara. The tides turn as Yara fights to save herself, hundreds of sea creatures, and the merman who has her heart. She could lose her soul in the process–or she might open the gateway to a love that's deeper than the oceans."
Between the Sea and the Sky by Jaclyn Dolamore – "Esmerine can't wait to become a siren-the highest calling for a mermaid-just like her sister, Dosinia. But then Dosinia goes missing, and it's up to Esmerine to find her. On the way, she runs into her childhood friend Alandare, a handsome, winged man. Will forbidden love conquer all in this dreamlike fairytale?"
So there's a few to get you started.  A lot of romance, some danger and so much water.  Any really good books or movies or TV shows I left off?  Sound away in the comments section or post away on WriteIt.
Thanks guys!  Happy MerMay!  Until next time, End of Line.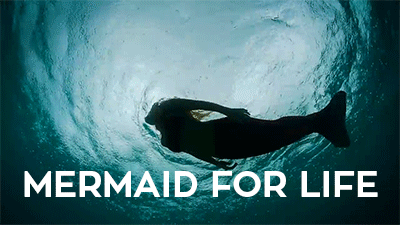 Tags: Mermaids, MerMay, Week of Geek