Hi again Geeklings!
Some exciting news!  Entertainment Weekly, which is one of the flagships of pop culture magazines, is doing a cover story this week with a first look at the next Thor movie, November 3rd's (day before my birthday!) Thor: Ragnarok (which, I must point out, is the THIRD Marvel movie we're getting this year, when usually we only get two; Ragnarok comes after May 5th's Guardians of the Galaxy Vol. 2 and July 7th's Spider-Man: Homecoming).
Now, brace yourself, because Thor's… had a bit of a makeover.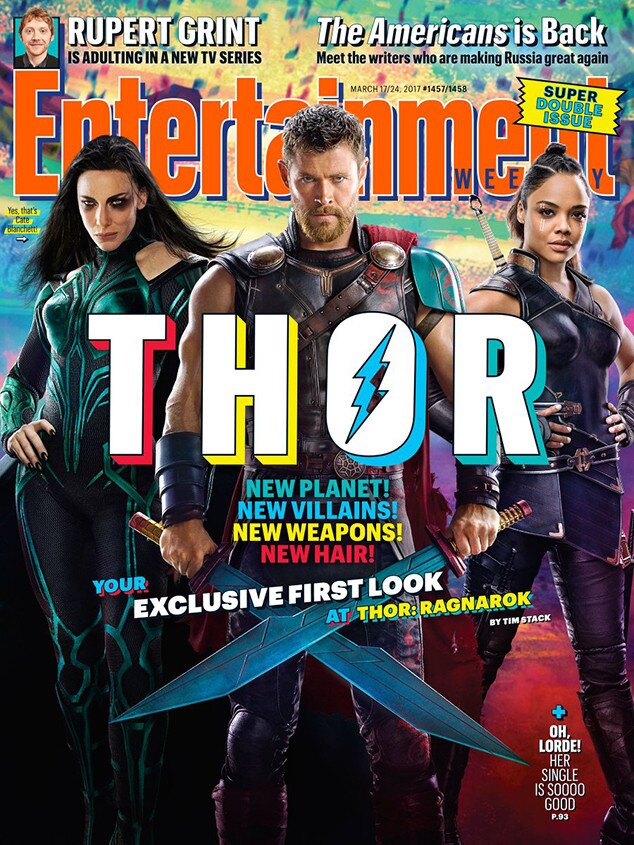 WHAT THE HEEEEEEY?  HE CUT HIS HAIR!  WHAT?!  HE!  WHAT?!
Seriously, what?  His long hair has been a part of his look since the beginning!  It's so viking!  What?!
Another serious point to ponder; where's Mjolnir?  His hammer?  He's got two awesome-looking swords, and that's awesome, but where's his hammer?  *GASP*  Has Thor at some point since we last saw him become… unworthy?  Say it ain't so!  Don't make me post the screaming-robot-in-the-rain pic again!
OK, moving on.  We've got 2 newbies in the cover; Cate Blanchett as Hela and Tessa Thompson as Valkyrie.  So cool!
And over the last 24 hours we've had more pics posted online.  Let's look!
That's Jeff Goldblum on the left as the Grandmaster.  Another pic of Thor on the right, looking ready to throw down.
Mark Ruffalo is back as Bruce Banner/The Hulk!  Benedict Cumberbatch will also be back as Doctor Strange (HEE HEE!)
But here's my big question… what of my beloved Loki?  One of my most favorite of villains?  The one who forced the Avengers together in the first place?  One we haven't seen in far too long?  OH NO, DID HE CUT HIS HAIR TOO?!
HE'S BACK!  HAIR INTACT!  HAPPY DAY!
I know he's murderous and evil, but look at that face!  He looks happy!  It melts my fangirl heart!
So what do we think Geeklings?  We excited?  Do we like Thor's new look?  Do we like the colorful look of the film in general?  Who are we excited to see again?  Who are we excited to meet?  Post away!
In the meantime, we have previous Marvel Movies and Marvel Shows for your enjoyment.  For Thor's arc, you'll want this, this, this and this (in that order).  And put a hold on Doctor Strange if you haven't yet (keep an eye out for the end-credits scenes, *wink wink nudge nudge*)
Stay tuned for more Marvel news.  Let's end off with this vid.  Yes, it's from all the way back in 2013, but it's still AWESOME and it'll tide us over until we get a Ragnarok trailer.  Until next time, End of Line.
Tags: Entertainment Weekly, Marvel, Thor, Thor Ragnarok, Week of Geek, Week of Geek Breaking News