Hiya Geekings!  How's the summer going?  Getting in those Teen Challenges?
Speaking of which, as I mentioned, this week's theme is comic books.  Not only is that a favorite topic of mine but I've also been reading some new comics lately, so I thought I'd highlight some books so we can all enjoy them.  Yay!
Nimona by Noelle Stevenson – FINALLY got around to reading this one.  Set in a fantasy realm where science and magic mingle, known villain Lord Ballister Blackheart (who, BTW, may be one of my new all-time favorite characters of any genre) just got an unpredictable shape-shifting hot-headed sidekick named Nimona.  Nimona's past is mysterious, but she's eager to take a bite (sometimes literally) out of Blackheart's nemesis, the Institution of Law Enforcement and Heroics.  Their main champion, Sir Ambrosius Goldenloin, has a history with Blackheart.  I won't give too much away, but I would wholeheartedly recommend giving Nimona a read.  The characters are compelling, the dialogue is great and the setting is cool.  Loved it!  (BTW, it's not due until 2020, but Nimona is getting a movie).
Ladycastle by Delilah S. Dawson – A fantasy series featuring princesses, lady kings and lady knights.  But none of them started out that way (well, except for the princess).  You see, the women in this kingdom couldn't really do anything when King Mancastle and his knights were around, as he made sure all women were firmly oppressed, even locking up his eldest daughter in a tower.  When the king and his knights get eaten by a dragon and a curse falls on the kingdom that will draw more monsters to them the women decide to handle things themselves, learning how to fight, how to build and how to run the kingdom together.  With great artwork and some great song references, this was fun and empowering.
Brave Chef Brianna by Sam Sykes – If you like cooking, this is one to check out.  Brianna is the only girl out of 16 children, and her famous and ailing father has a proposition; whoever opens the most successful restaurant will inherit his cooking empire.  One rule though is only one of the 16 kids can have a restaurant in each city, and Brianna ends up in Monster City – which, as you may guess, is made up almost entirely of monsters.  Though Brianna is eager to prove herself quite a few things stand in her way, such as city ordinances, monsters who aren't keen to have her there and her own really negative inner monologue.  But some unexpected friends and some good food may just turn the tide.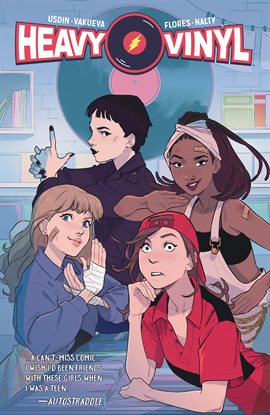 Heavy Vinyl by Carly Usdin – This one is set in 1998, which already appeals to me as I was a teen during the 90s.  17-year-old Chris has just started a job at Vinyl Mayhem, the local record store, and as a huge music fan she's ecstatic to be working there… and the fact that her crush, Maggie, also works there is a huge bonus.  But then a favorite singer disappears just before her band is set to do a show at Vinyl Mayhem, and that's when Chris discovers the truth; everyone at the shop isn't just sorting out albums, they're also a teen girl vigilante fight club!  What?!  One complaint I have is that volume 1 ends pretty abruptly.  But, aside from that, you're going to enjoy these girls and how much butt they kick.
Misfit City by Kirsten Smith – In the Oregon town of Cannon Cove, not much happens.  The town's biggest claim to fame is that it was the setting for a cult kids classic film called The Gloomies (yeah, I think we all know what film that's a stand in for), and it's a tourist spot for Gloomers (the fans) but not much else is going on.  But just when Wilder, Macy, Dot, Karma, Pip the dog and their friends think they've seen it all in Cannon Cove, a deceased sea captain, an uncovered treasure map, a legend of a pirate named Black Mary and people willing to do anything to get their hands on that treasure all pull the girls head first into an adventure all their own.  Like Heavy Vinyl, volume 1 of Misfit City ends pretty abruptly, but it's pretty darn fun.  And we're going to see if we can get volume 2 in to our collection.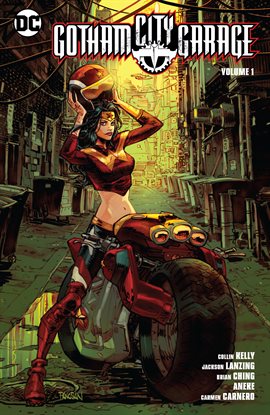 Gotham City Garage by Collin Kelly – It's your favorite DC characters as you've never seen them before, and a lot of them ride souped-up motorcycles!  In the spirit of DC Bombshells and taking cues from film series like Mad Max, GCG takes familiar characters and puts them in a new scenario, and this time we're getting post-apocalyptic.  Decades ago Governor Lex Luthor turned Gotham City into the Garden, an oasis under a dome protected from the Wasteland outside.  But the citizens of the Garden are not free, as Kara Gordon knows all too well when the electronic brainwashing every citizen experiences doesn't affect her.  But when she's forced to flee the dome she meets up with the women of Gotham City Garage, who ride their bikes all over the Wasteland and who look for every opportunity to take Luthor and his system down.  Some villains are heroes, some heroes are villains, some heroes are heroes and some villains are villains.  You never know what you'll get with this series.
Just having typed this, I've noticed a pattern; a lot of girl power in these comics.  I think I'm on a bit of a kick.
Anything you guys have read recently that you'd recommend?  Post in the comments or write about it on WriteIt.  Have a great week, keep trying those challenges, and until next time, End of Line.
Comments Off

on Week of Geek: A Good Old Fashioned Comic Binge
|
Add Comment
| Tags:
Brave Chef Brianna
,
Comics
,
DC
,
Girl Power
,
Gotham City Garage
,
Graphic Novels
,
Heavy Vinyl
,
Ladycastle
,
Misfit City
,
Nimona
,
Week of Geek