This summer, Adult Summer Reads: Amazing Quests takes us on a 70s rock adventure as we read Daisy Jones and the Six. Join us on Thursday, July 18 at 7:00 pm at the Civic Centre Resource Library for our Books with Buzz program, where we'll be discussing this hot new title (and any other buzz-worthy books you like!).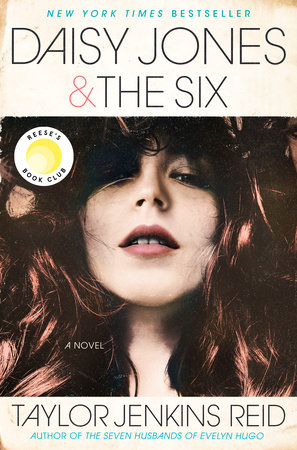 Daisy Jones and the Six is a story about a fictional band, but don't feel embarrassed if you had to google that to make sure. Reid's latest novel is so steeped in 70s rock culture, from shaggy hair, bangles, desert vibes, and plentiful drugs, it definitely feels real.  
If you've ever been the type of music fan to get caught up in a good backstory, or loves some behind the scenes drama (honestly, which of us doesn't?), Daisy Jones has what you're looking for. In an interview with Rolling Stone (how appropriate!), Reid speaks to her inspiration behind the fictional band, about how she "was really intrigued by that story of these two people that create this incredible, intimate art together that sounds so romantic but they're not romantically involved." Reid points to Fleetwood Mac and Civil Wars as examples of bands whose breakups intrigued her, which led me to recall the time in my own life when I obsessively chronicled the implosion of The Libertines. There's something about the particular chaos and tragedy of rock bands that lends an air of romanticism and glamour, even though it is often less-than-glamourous things like drugs and jealousy that cause their downfall. Daisy Jones is proof that we are all still susceptible to that rock band charm!  
Structurally, the book is impressive. The story is told in interview format, like a long episode of Behind the Music, which means that Reid has to weave the distinct voices and narratives of several band members, managers, and friends into a defined timeline, with all the information coming directly from dialogue. At first, I had a hard time keeping track of the characters (I won't lie, I still barely know who Warren and Pete are), since we're just presented with a grab-bag of generic male names. But the major players are defined enough to stand out, and their complexities are what really solidify them. Daisy Jones is your boho, take-no-prisoners rock goddess, like if Stevie Nicks had Courtney Love's penchant for messiness. It's a behind-the-mystique look at a star who, front-facing, could just be a run-of-the-mill California dream girl. Through Billy Dunne we get the classic, Almost Famous-style dynamic of the charismatic front man capturing the public's attention while the rest of the band plays in the shadows, and the tensions that come along with that. But Billy isn't just a Jagger prototype—he is a family man, devoted to his wife and sobriety, a musician who has trouble letting go creatively, but one who is so talented you almost don't want him to.   
The problem with books about music is that, even though the song lyrics are printed at the back of the book, you can't read a song—all the descriptions of the songs made me sad that I couldn't just pull up Spotify and listen to them. It's sort of like if someone were to describe a painting to you. You can probably imagine something similar, but it'll pale in comparison. However, Reese Witherspoon has blessed us with some good news! She and Amazon Studios have purchased the film rights to Daisy Jones for a 13 episode series, and Reid has confirmed that the much-hyped album Aurora will play a big role in the show. So we can look forward to hearing these legendary songs—although I don't envy the person tasked with bringing these songs to life, since they're positioned as diamond record-worthy 70s rock hits.  
Have you gotten a chance to read Daisy Jones and the Six yet? Join us on Thursday July 18 for our Books with Buzz program, and let us know what you think! We'll be serving refreshments and talking books!