In 2007, the Washington Post published a (now-famous) article called Pearls Before Breakfast. On January 12th of that year, a busker stood playing the violin at L'Enfant Plaza in Washington, earning just over 32 dollars for a performance that was passed by nearly 1100 people. While a few people did stop to listen for at least a minute (7 in all, out of over 1000), most ignored the musician entirely—with one very noteworthy, categorical exception. According to Stinson's wonderful book, The Man With the Violin, there was one demographic that did not behave like the rest; each time that a child passed the violinist, they tried to stop—tugging on a parent's arm and so forth—and in every case, the adult hurried them along. What those commuters did not know was that the man playing the violin was Joshua Bell, one of the most masterful violinists in the world. They didn't know that he had recently played a local concert—sold out—where even mediocre seats sold for over a hundred dollars a ticket. They probably wouldn't have guessed that the music he was playing that day was one of the most difficult pieces ever written, or that the violin he was playing on was handcrafted by Antonio Stradivari in 1713—purchased for nearly 4 million dollars and never refinished.
"He made this to perfect thickness at all parts," Bell says, pivoting it. "If you shaved off a millimeter of wood at any point, it would totally imbalance the sound." No violins sound as wonderful as Strads from the 1710s, still.
Chances are, the children did not know any of this either, but they did know something that the adults did not: that this humble-looking artist was eminently worthy of their time and attention, and that the music he was making was beautiful. I love this story, and I love that Kathy Stinson created the book, The Man with the Violin, inspired by this real-life social experiment. While officially targeted at younger children, it would be an excellent book to read to a group of teens or pre-teens to spark a discussion about recognizing beauty and how we ascribe value (wearing an expensive suit on a stage = worth a $100 ticket / wearing a ball cap and standing on the pavement = not worth the time). All of this is to say that after The Man With the Violin, I didn't believe I would ever again stumble upon a picture book that so eloquently portrayed the power of music and the elevated ability of children to recognize beauty and to be inspired by it. I was wrong.
Because is the newest release to fit snugly into this treasured category. Written by Mo Willems, it too is based on real life events, real people, real musicians, and the impact of every small thing that helps us to realize who we were meant to be (in this case, the composer Hilary Purington takes centre stage). There is a great video you can watch if you'd like to have the story read to you. And if you share my enthusiasm for endpapers, I think the decision to use the two musical scores that are imbedded in the story was a stroke of genius. Because hits all the right notes and I highly recommend giving it a read, perhaps in tandem with The Man With the Violin. As a side note, I like what Willems tells us about the heroine in Because; she not only works extremely hard, and is not only very talented, but she is also "very lucky"—it might be easy to pass over these words, but I think that they were intentional. I cannot help but think of Bell as that January busker; what if he really was a busker and it wasn't an experiment? It is entirely possible for a great artist's fate to be just so during his or her own lifetime (just take a look at Van Gogh, who only ever sold one painting, or Franz Kafka, whose "main income came from work as an insurance officer": you can check out the rest of that article here). Would that change anything, if this had been Bell's reality? Would it change the value of his music? Not in my mind, and I think that pointing out the role of luck in this way welcomes children to spend their lives creating art with the understanding that, while luck may bring some to fame and fortune, hard work and a love of the art are worthy in their own right.
And fun fact (for anyone in for a feel-good teacher movie): Joshua Bell makes a cameo in the 1999 Meryl Streep flick, Music of the Heart (if you ever wanted to inspire yourself to pick up a violin, by the way, this is the movie). Like the former two recommendations, Music of the Heart is based on a true story, that of high school music teacher, Roberta Guaspari, whose dedication, unique method, and perseverance are much of what led her students to one day take the stage at Carnegie Hall. It's also a great story (in general) about defending something worthwhile, and while it may be easy to shrug off this sort of thing trite or cliché, I can't deny that I continue to enjoy stories like these however many times and in however many ways they are told.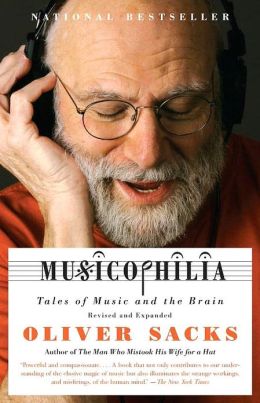 Or if it's the sciences you love, Oliver Sacks's Musicophilia: Tales of Music and the Brain may be just the thing. Full of bizarre and hardly believable (but completely true) musical clinical stories, it will give you a whole new insight into music's interplay with the human psyche—the stuff in there is borderline wizardry. I was fascinated to learn that some languages are simply more musical than others, relying more on pitch to express meaning than others do—people with a more musical native language, Sacks conveys, are far more likely to develop what is known as perfect pitch, or absolute pitch: in part, the ability to recognize notes for what they are outside of any context, as easy as recognizing different colours. In another thread, Sacks writes, "We often speak of people as having or not having a "good ear." A good ear, as a start, means having an accurate perception of pitch and rhythm… but is a good ear sufficient?" He goes on to tell the story of a man who was advised that he didn't have the stuff (artistically-speaking) to continue with his music—a good ear, as it turned out, wasn't enough. I have to admit that both times I read this story I had a negative reaction to it. But why? Shouldn't great artists, recognized or not, have that 'special something?' In trying to sort this out, I am reminded that no two people are alike and therefore, whatever it is that we each have to offer is singular: del facto irreplaceable. Not that mastery and brilliance shouldn't be especially celebrated, just that whatever it is that each of us has to give, nobody else can, and it seems to me that counts for something. I am also reminded, owing largely to the following story, that talent isn't everything:
One last strange, but true, musical story—so fascinating—is that of Florence Foster Jenkins (also starring Meryl Strep). It's the story of somebody who was quite bad at singing, conventionally speaking, but who was so well-loved and supported that she didn't even know it. She too sang at Carnegie Hall and even produced her own record through Melotone Recording Studio.
"One of the most requested programs from the Carnegie Hall Archives is for the concert given by Florence Foster Jenkins. The records she made for Melotone became their biggest seller."
This is either evidence that luck plays a major role or (as I rather think) that Florence didn't see music as something to win or lose at, and that made all of the rules, well, arbitrary (100 points if you can guess what recent, optimist-oriented work of non-fiction I have been reading—clue: S.S.). She simply loved music and certainly left the world of music a more interesting place than she found it: bravo Florence!
"She was exceedingly happy in her work. It is a pity that so few artists are. And the happiness was communicated as if by magic to her hearers…"
—Robert Bager, New York World-Telegram, October 26, 1944
So there you have it; a lineup that sure to have you feeling the vibes for music. I'll see if I can possibly make the next post moderately less sentimental: no promises though!
Next on my watch list: The Soloist, also based on a true story!