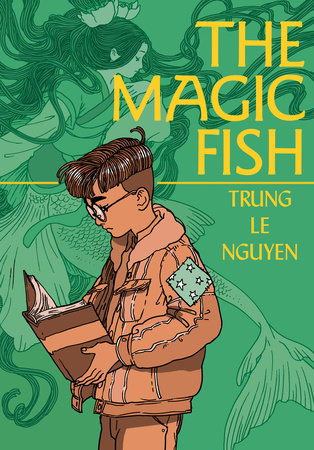 I know graphic novels are sometimes seen as not "true literature", especially those for young audiences, but I can confidently tell you that if you read The Magic Fish, you will change your mind. This wonderful story really emphasizes the power of language and how some emotions can't be expressed in words, and this book does that through the power of fairytales.
This book stars 12-year old Tiến Phong who reads stories with his mother, Hiến, to help improve her English. The stories they share together are often put in juxtaposition to Hiến's memories of leaving Vietnam as a refugee or to Tiến's experience in figuring out his sexuality. The duo used stories to connect and to share what they couldn't really put into words themselves. The illustrations were just lovely and really helped convey the beauty of the stories. I loved that the illustrations tended to be one colour, such as all purple or all red, but still conveyed depth through slightly different hues. Some of the fairytales, such as Hans Christian Andersen's version of "The Little Mermaid", may be familiar to readers but since I am not a huge fairytale reader, I found the stories all new and exciting. The illustrations were not only beautiful, but the words in the fairytales were also really well-written as well.
This novel also made me wonder about the ways in which fairytales and myths are passed down through generations in families. About halfway through the novel, Hiến hears a story from her aunt that she has heard in childhood but now she does not remember it, as her childhood memories are mixed with those from her new life in America. I thought this was a particularly poignant part of the story and I think Nguyen did a wonderful job illustrating these confusing and tough emotions. It really made me wonder about the ways in which even family stories have their own myth to them, and that stories shared across generations can seem fantastical over time.
I also think this book is highly appealing to me because it really demonstrates that graphic novels can be literary. In the author's note at the end of the piece, the author talks about how comic books really require an in-depth reading, because one must learn to read the images: "People tend to think about comic books as two separate parts– the words and the pictures. In illustrated books, the images support the text, but the text can exist entirely without the pictures. Comic books are just the opposite. Here, the images are the text. Comic books speak a hybrid language between orthography and iconograph, written text and pictures. It takes a certain level of proficiency in both languages to get by, but it's a whole and complete reading experience altogether" (Nguyen, 2020). I think that this quote from the author's note at the end of the book really summarizes what it is that is so compelling about this story.
This is all to say that while this is a book recommended for young adults, it is also a book that I think any reader will enjoy for its beauty (both in pictures and in words) and its complex topics. It definitely left me a lot to think about, and I think that any one interested in a great story would enjoy this.
You can request a copy of this book from this link or by clicking the book cover at the top of the post!