The end of the year always brings about a time of reflection. As with last year, we wanted to look back at the year and share some of the best books that we've read and think you should add to your 2022 reading piles!
All blurbs and book covers include links to the VPL catalogue where you can request and borrow these books for yourself! Happy reading!
Alyssa's Picks
Piranesi by Susanna Clarke: Piranesi was the first book I read in 2021 and it's still the best one. This slim little novel is a departure from author Susanna Clarke's gargantuan previous work Jonathan Strange & Mr. Norrell, but it still manages to spin its own labyrinthine magic (because it's about a labyrinth, you see). In this latest novel, a man who is not technically named Piranesi but whom we shall call Piranesi documents his time in a spacious, dreamlike house that includes endless halls, statues, birds, and tides that bring in periodic floods. It's his job to explore this house, and to help a mysterious visitor called The Other, who is researching a Great and Secret Knowledge. None of this makes any sense, but Clarke's careful unfolding of narrative clues turns a vague and confusing plot into a compelling mystery. Who is The Other? And just what is Piranesi's real identity? (Fun fact: he is named after the 18th century artist Giovanni Battista Piranesi, known for his Imaginary Prisons etchings. A clue!) Piranesi was recently awarded the 2021 Women's Prize for Fiction.
People We Meet on Vacation by Emily Henry: 2021 was another tough year, so I filled my summer with easy, steamy reads. People We Meet on Vacation is exactly the kind of book to read while lying in the sun, and is an excellent follow up (or companion to?) last year's Beach Read. It concerns two long-time friends, Poppy and Alex, who have drifted apart after an unfortunate encounter. With her life in shambles, Poppy decides to drag Alex along on a weeklong vacation in order to repair their friendship—and perhaps more. I'm very picky about my romance books. A successful romance, in my opinion, needs to perform the delicate dance of interesting plot, non-contrived romantic obstacles, and characters who are believably into each other (i.e. chemistry!). Emily Henry excels at all of this. We all have our favourite romance tropes, and friends-to-lovers is not one of mine (give me enemies-to-lovers instead), but People We Meet on Vacation won me right over.
Hola Papi: How to Come Out in a Walmart Parking Lot and Other Life Lessons by John Paul Brammer: John Paul Brammer is the author of the column Hola Papi, which he describes as "the preeminent deranged advice column" from a "Twitter-addled gay Mexican with anxiety". But this is just one of the ways Brammer sells himself short. Rather than "deranged", his column is always beautifully, thoughtfully written. In Hola Papi: How to Come Out in a Walmart Parking Lot, Brammer turns his gorgeous prose inward to examine his own life, from his insecurities growing up as a biracial Mexican-American in Oklahoma, to his identity as a queer Latino man (he gets the "Papi" of the title from being racialized on Grindr), to his journeys through quietly devastating heartbreaks, and more. Brammer gives the same care and attention to his own stories as he does to those on his column, but if there's one critique I have of the book, it's that at just over 200 pages, it's too slight. More stories, please!
Karen's Picks
A Silent Fury: The El Bordo Mine Fire by Yuri Herrera, translated by Lisa Dillman: This slim volume was a hard one to sit with, and I had a difficult time thinking about how to rate it, the same way I sometimes have a hard time "liking" a post because I appreciate that it exists but would rather the content it covered didn't. How do you rate a reconstructed account of a mine fire that happened in Pachuca, Mexico, in 1920? Where 87 people died, entombed in the mine after the shafts were sealed? Where mistakes and oversights were made at seemingly every turn; inconsistencies in official statements everywhere; the cause of the fire left unexamined, allowing the company to evade responsibility. Herrera is surprisingly measured in tone (as it seems to me, at least) as he details the mismanagement of the situation at every turn, but, true to the title, the restrained anger and frustration is felt upon every page: "All of the certainties and assumptions on which his decision [to hermetically seal the mine] was based were wrong, or invented, and yet no action was taken to investigate the contradictions regardless of the fact that they are recorded on the next page; these are not discoveries made a posteriori, not contradictions that cropped up long after the fact, but on the very same day or one day later at most" (p.72, emphasis in original). Upon finishing reading the reconstructed timeline of events, you will most likely be left unsatisfied, and I think that's about right.
It doesn't feel quite right to say "if you enjoyed A Silent Fury" when recommending another title based on this but here's a recommendation if A Silent Fury was something that you felt worth your while: Hades, Argentina, by Daniel Loedel (we don't own this title, but Markham does on Overdrive). Loedel talks about his complicated relationship with Argentina as someone who has an Argentine father but grew up in America, something that many immigrants and first generation children of immigrants can likely relate to.
Becoming Beauvoir: A Life by Kate Kirkpatrick: Quick, what's the first thing you think of when I say Simone de Beauvoir? If you said Sartre, you're not alone. But she was so much more than just Sartre's lifelong partner – and their relationship most certainly wasn't without its problems! – and throughout Beauvoir's life, she was constantly in the process of becoming herself, changing her opinions and adjusting her ideas as she understood things more, and differently, throughout her life. Besides her own philosophy career, which actually differed from Sartre's, she was an ardent walker, intent on exploring nature outfitted in her espadrilles, and a lauded writer: her novel, The Mandarins, left Sartre in so much a state of awe after he read it that he stopped writing novels altogether after! He even left a series unfinished, much to my high school-aged self's disappointment: "There wasn't any point finishing it, he said, The Mandarins had already 'explored the problems of the time much better than I could have ever done', 'maintaining freedom, uncertainty, and ambiguity throughout'" (p.277, quotes in original). Funnily enough, I'd always thought of the Roads to Freedom series as a trilogy because of its unfinished state, but I had read what's available of the fourth instalment and don't remember reading about Beauvoir's influence on Sartre's decision to stop writing it.
One of the things I found myself really admiring in Beauvoir as I read this biography was that, later in her life especially, she would take a look back at the person she used to be and the views she held then, and declare that she was wrong at the time. (Something notoriously difficult for many of us to do – and I say this as someone who's not exempt from this, sadly – as authors of Mistakes Were Made (But Not By Me) detail. (A newer edition of that title is available via Overdrive with Markham Public Library, which you can access with your VPL card.) And one of the other parts of the book that really stuck out to me was also just how free Beauvoir was in being hard on Sartre, and how this unflinching honesty in their communication (because it went both ways) was one of the ways they showed their love and care for each other. In an interview to mark Sartre's 70th birthday, here is an excerpt:
M.C. Are you just as hard on her as she is on you?
J.-P. S. Absolutely. As hard as possible. There is no point in not criticizing very severely when you have the good fortune to love the person you are criticizing. (p.370)
And Beauvoir herself demonstrates this in an interview she did of Sartre, when she asks him why he doesn't take the side of women though he claims to be on the side of the oppressed. His answer? "His childhood, probably, he said" to which Beauvoir sounds exasperated (in my reading of it at least!) by his refusal to give an actual answer: "'But you became an adult!'" (p.372).
Little Siberia by Antti Tuomainen, translated by David Hackston: Nothing goes quite as you expect it to in this dark comedy of a thriller where everyone's some kind of flawed and has taken wrong turns here and there, with something to hide at every corner. Joel, the main character in the novel, a priest whose wife has just told him she's pregnant, should be over the moon at this news – the couple have wanted a child together – but he has good reason to believe it's not his, but also no way to let his wife know he knows of her infidelity without revealing himself first to have lied to her. At the same time, a meteorite that might be worth a fortune just fell out of the sky, and Joel is part of its defense force as he takes on security guard shifts at the local museum along with a couple of other folks from town to guard the meteorite from being burgled (in outstandingly bungling fashion).
I had actually forgotten about reading this till now (and yes, I'm still recommending it as one of my top picks for the year despite having forgotten about it for months on end!) but was reminded of it because I just finished For Your Own Good by Samantha Downing (available also on Overdrive), another rollicking murderous thriller where you're rooting for no one and the body count is on the rise. Both these titles are fast-paced, dark humour, and good fun: perfect to balance out the sweetness of the holiday season 😉
Shelly's Picks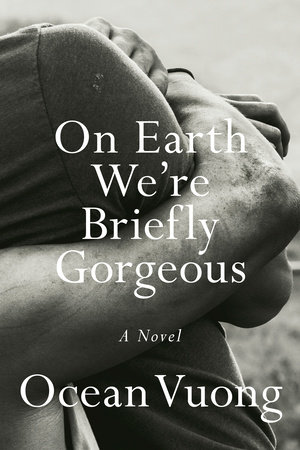 On Earth We're Briefly Gorgeous by Ocean Vuong: very rarely do books stay with me for long as I read so many of them but On Earth We're Briefly Gorgeous is one of those books. This book suddenly appeared all over social media after the cover for Vuong's next book was released so I decided to take a chance and see what everyone was talking about and I am glad I did. This novel is written in the form of letters from a 28-year-old son to his estranged mother. It goes over the character's childhood and his very complicated relationship with his mother in such a fascinating way. Some reviewers have pointed out that the similarities between Vuong and his character make the novel feel autobiographical rather than fiction but I enjoyed that aspect to the writing. Vuong is well-known for his poetry and his stand-out writing really shines in this novel form as well. After reading this one, I'm sure you'll want to check out Vuong's poetry!
All Boys Aren't Blue by George M. Johnson: this year was one where I found myself gravitating towards memoirs and one of the best ones I've read is All Boys Aren't Blue. While this is described as a "memoir-manifesto" for teens, I think that adults alike will enjoy this one. In this novel, Johnson explores their teenage years as a Black queer kid and goes through many subjects such as family, identity, consent, and the college experience. I really enjoyed the series of essays that make up the book and I especially enjoyed Johnson's writing about their family and the love that was there. I also found the essays on fraternity life really interesting as I am a huge fan of reading about found families. I think both teens with similar identities to Johnson will love to read about someone who just gets what it's like to be them and those looking for a gripping must-read memoir will find something in these pages. As the author challenges schools around the U.S. that are banning this book, it is more important than ever to protect diverse voices and books for teen readers.
The Charm Offensive by Alison Cochrun: as a fan of both romance novels and ABC'S The Bachelor franchise, this book almost feels like it was written for me. The Charm Offensive focuses on two characters: Dev, the producer of a reality dating show called Ever After and Charlie, the new male lead for the show. As the book starts, it becomes very clear that Charlie is not the prince that the show needs him to be so Dev is tasked with training him. As this a romance novel, Dev and Charlie start to fall in love instead of working on the show. If you liked Red, White and Royal Blue by Casey McQuiston, you are sure to love this book as well. I personally loved the romance, the exploration of reality TV and I loved the amazing depiction of mental health and demisexuality. This is a lovely well-written book that is definitely a must-read for any romance fan.
Sumayyah's Picks
A Study in Charlotte by Brittany Cavallaro: I'm a big fan of retellings, AU's, spinoffs, and etc. Take any beloved story and rework it and I will probably check it out! Such is the case with A Study in Charlotte, a delightful novel featuring the descendants of Sherlock Holmes (Charlotte) and John Watson (Jamie), college students who meet with their shared legacy hanging over their heads, a mystery to unravel and, of course, murders abounding. Charlotte is absolutely enrapturing; my favourite thing about her is that while being a very faithful likeness to her ancestor (regardless of gender) she is also a captivating character in her own right. And so is Jamie!
Their relationship is so intriguing too; I haven't yet read the sequels but I really hope it remains a platonic one (or unrequited, depending on how you interpret it). The title is perfectly fitting, as this story is told from Jamie's point of view, and he really is…well, studying Charlotte. She's fascinating, so I can't blame him, but beyond that, the story itself is an adventurous romp with a dash of darkness (hello, people die), managing to stay true to the source material in key areas while constructing a fresh new tale, so it's not a bore to read.
The Hero and the Crown by Robin McKinley: I read this book once years ago, and then saw it on the shelf while at work and quickly snatched it up, because I remembered loving it. The second readthrough did not disappoint! It is chronologically a prequel but was published second, but you don't need to have read the first book to understand it. It features a headstrong princess who isn't very princess-like, a rampaging dragon, magic, giant cats, magical dogs, beautiful horses, time travel, a slow-burn romance, and not one but two love interests without even a hint of a love triangle (how refreshing!). It also deals with such themes as family, belonging, depression, anxiety, PTSD, and the trials of being a mixed-race and mixed-class citizen.
All the characters are memorable—I loved the good guys, hated the bad guys, and grieved for the losses our heroes experience. Some people didn't enjoy the climactic battle but I argue that's because what they consider the climactic battle actually isn't. Without giving away any spoilers, I advise you to go into this understanding that this is Aerin's story about coming into her own (and adheres pretty faithfully to the structure of a Hero's Journey), so it's not really about the defeat of some villain. If you keep this in mind, then the ending should be as satisfying for you as it was for me. I'd recommend it for fans of Tamora Pierce's works (namely the Song of the Lioness quartet).
Sleepless Vol. 1 by Sarah Vaughn: I picked this up while waiting for a friend at Indigo and devoured it in one sitting, it was that good! It was the art that drew me in first (whoever said don't judge a book by its cover vastly underestimated my crow brain, which went oooh shiny! at the sight of it), partly because the illustrations are gorgeous, partly because the main character is a dark-skinned princess, which is awesome. But it's the story itself, and the character interactions, which kept me hooked.
We've got Poppy, the illegitimate daughter to the former king, court intrigue, assassination plots, a knight who belongs to an order where they refuse sleep (oof) so they can better guard their charges, pining, and a cute pet fox! Also, our main character's mother is still alive, which is fairly rare for heroines, who are usually afflicted by the dead mom trope. The worldbuilding and magic system is well-developed and intriguing, and I can't wait to read the second volume!
---
What have your favourite books of the year been? Do you have titles you're excited to read in the new year? Drop a comment and let us know, we'd love to chat with you and discuss past faves or expand our to-read lists.