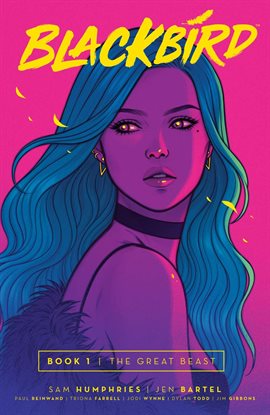 When one thinks of literary novels, they almost never think about graphic novels or comics being included on the list. That may seem obvious but I like to think differently. Pictures often help convey emotions, elements that words can't easily describe. Not only do I usually recommend graphic novels for reluctant readers, I also recommend them for those who consider themselves well-read. Illustrations can greatly enhance a work and there are so many beautiful graphic novels. In addition, there are so many comics that are thoughtful with great characters. When you think of comics, you often think about superheroes in silly capes and dorky catchphrases. Though I love those two things, there is also a wide range of comics (even superhero ones!) that are genuinely written and drawn in a beautiful way.
That said, I thought it'd be fun to create a short list of some of the graphic novels I've read and that I recommend. All of them are available on Hoopla, so they're instantly available now with your library card! All of the links below will take you to the Hoopla page so you can start reading.
Sheets by Brenna Thummler: This graphic novel is a thoughtful story with a whimsical premise. The main character is a young girl who works at her family's laundromat and the story starts when she comes across a ghost one day. Despite the whimsical premise, this novel is about forgiveness, grief and features an unlikely but adorable friendship. I definitely recommend it for all ages, including adults.
Blackbird vol. 1, written by Sam Humphries and illustrated by Jen Bartel: Bartel is one of my favourite illustrators so anything that she draws, I will read. Luckily for all of us, Blackbird is amazingly written and drawn. If you're looking for an interesting new comic series, I highly recommend it.
El Deafo by Cece Bell: Fans of Raina Telgemeier will adore this graphic novel memoir that is both funny and touching.
Ms. Marvel vol. 1, written by G. Willow Wilson and illustrated by Adrian Alphona: This would not be one of my lists if I did not throw in a recommendation for one of my favourite superheroes of all time. I'm sure you've heard of Ms. Marvel/Kamala Khan and if you haven't read her wonderful story yet, now is your chance!
Saga vol. 1, written by Brian K. Vaughan and illustrated by Fiona Staples: Saga is one of the first comics published by Image comics that I've read so it has a special place in my heart. This is a series people often have a hard time describing, but I'd generally describe this as the story of one family across time and space. It's not the most compelling description but trust me, there's a reason why it has won so many awards and is considered a classic.
The Backstagers vol. 1: Rebels Without Applause, written by James Tynion IV and illustrated by Rian Sygh: The Backstagers is one of my favourite comic series for children, though it definitely can be read by adults. It's an adorable series that stars Jory, a new kid at an all-boys school. There, he joins the backstage theatre crew and discovers that there's more to his school than he may have originally thought.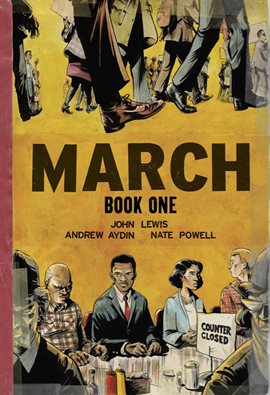 March: Book One, written by John Lewis and Andrew Aydin and illustrated by Nate Powell: March is essential reading for everyone. It chronicles the life of Congressman John Lewis, one of the biggest leaders in the American Civil Rights Movement.
Laura Dean Keeps Breaking Up With Me by Mariko Tamaki and Rosemary Valero-O'Connell:  Though this book just came out last year, it has so much critical acclaim already! It genuinely lives up to the hype and I loved it. If you don't trust my opinion, Karen also recommended it a few months ago.
Green Lantern: Legacy, written by Minh Le and illustrated by Andie Tong: DC has recently released a wide line of graphic novels in which iconic superheroes are living life in their teens. I recommend a lot of the titles across this line but my favourite has to be Green Lantern: Legacy. In this comic, thirteen-year-old Tai Pham inherits his grandmother's green lantern ring and he fights to save his neighbourhood from gentrification. I highly recommend it for everyone, it's a beautiful story about family and being yourself and as a bonus: there's some really cool superhero elements!
Have you read any of the titles on this list or have some different recommendations?