This year has felt both like the longest AND the shortest year ever, but luckily we had books to pull us through! On that note, here is a list of all the books we read this year and recommend!
All blurbs include links to the VPL catalogue where you can request and borrow these books for yourself! Happy reading! 
Alyssia's Picks
The Invisible Life of Addie LaRue by V.E. Schwab
"Never pray to the gods that answer after dark" is the refrain of Schwab's latest novel. I would have every page of this book tattooed on the inside of my eyelids if I could, so I would never have to stop reading it. In this ambitious novel—ten whole years in the making—Addie Larue sells her soul to a dark god in a bid for freedom from her tiny 18th century French village. Of course, like all deals with the devil, this one comes with a price: as soon as she leaves the room, no one will remember her. Freedom, indeed. Addie is damned to a life of immortality in the shadows, unable to form lasting connections or leave her mark. She travels through the rough streets of pre-revolution Paris, to refined Parisian salons, to artist's studios in Florence. In 2014 New York, however, Addie meets the only person in 300 years who remembers her—why is he able to break the curse? And why does the world seem to bend to his will? Schwab's novel about loneliness and memory is sumptuous, as is the dynamic between the iron-willed Addie and the seductive Darkness to whom she owes her soul. I'm admittedly a big fan of Schwab's work, but Addie Larue is easily her best work to date. Would I sell my soul to this devil? Yes, yes I would.
In the Dream House by Carmen Maria Machado
This experimental memoir explores a topic that has suffered what Machado calls "archival silence" (the loss of certain cultural histories due to lack of records), and that is domestic abuse in queer relationships. Machado navigates her history with an abusive partner alongside us, stepping out of the narrative to view her situation—and its place in the history of undocumented queer relationships—in an almost meta way. She considers the consequences of this archival silence, but also the complexity of revealing an abusive lesbian relationship to a judgmental world (some questions she considers: is she "betraying" her sisters by speaking up? Will this abuse just prove homophobes right? Don't queer people have the right to be shown as human, flaws and all?). The experimental factor is in the structure; In the Dream House is a series of vignettes, some full chapters and others only a single page. Fluent in the tropes of storytelling, Machado does incorporate a happy ending—and it's structured like a twist. I gasped!
The House in the Cerulean Sea by TJ Klune
This is a darling little gem of a novel. If you want a book that feels like stepping into a warm hug while holding a steaming cup of tea, this one should do it. Klune's delightful fantasy follows the journey of Linus Baker, a solid, reliable, meat-and-potatoes, ketchup-is-too-spicy Case Worker at the Department in Charge of Magical Youth. All of his days look the same in his drizzly, grey town. But Linus gets the chance at a new kind of life, one full of colour, sunshine, and love when he takes the case at the titular house by the sea, on an island far from home. There he meets a host of strange children and their lovely caretaker Arthur Parnassus, and dedicates his days to documenting life on the island, growing ever closer to its inhabitants. House in the Cerulean Sea is a perfect antidote to the horror that is 2020, full of heart and warmth, just a shot of straight serotonin.
Karen's Picks 
Entangled Life by Merlin Sheldrake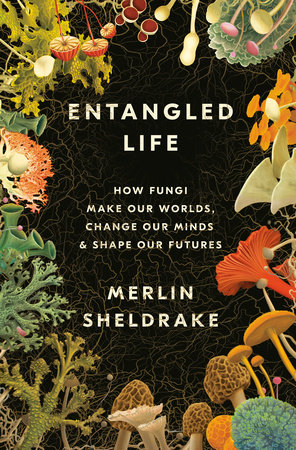 Ever think about how much garbage and lack of rot we'd be covered by in a matter of days if fungi didn't exist? You don't want to think about it. What you do want to do is pick up this book and read all about different types of fungi, from delicious, mouth-watering mushrooms (and the other kind that takes you to worlds unknown, though no one ever really talks about how those taste) to the fungi that decompose lignin in wood to make a bubbly hot bath you can dip into, Sheldrake is so passionate about his subject of choice that HE GREW OYSTER MUSHROOMS ON A PHYSICAL COPY OF HIS OWN BOOK, HARVESTED THEM, AND ATE THEM. Yeah you read that right.
The Hundred Years' War on Palestine by Rashid Khalidi
Khalidi has put the last one hundred years of Israeli-Palestinian conflict into an organized and digestible timeline separated into 6 chapters of pivotal moments and events, starting with the Balfour Declaration of 1917 and leading into the present day. If you're new to the discussion, this is a great intro that lays out what happened and explores how external interests have significantly impacted the events that unfolded. Khalidi's evident knowledge & passion make this volume a fascinating and informative read, especially when he delves into the reasons why Palestinians have repeatedly lost in many of these struggles – ranging from insufficient organization, to the involvement of foreign countries backing Israel and providing it with military might, to the division among Arab states concerning the Palestinian problem. The Hundred Year's War on Palestine is well written, interspersing family history and breakdown of why things happened the way they did throughout the book as Khalidi covers historical events, and I would recommend it to anyone interested in learning more about the Israeli-Palestinian conflict.
The Book of Eels by Patrik Svensson
No one has seen an eel in the Sargasso sea. And yet we know – or our best guess is, rather – that the eels' breeding ground is there, an ambiguously defined sea for an odd and mysterious fish. A mix of memoir with scientific history (of investigations into the eel), this title is equal parts soothing and of the sort of ingredient that sets you into a sea of quiet, meditative lamentation.
You can read Karen's full review of this title in an earlier blog post, Uncanny Eels. 
Bonus! Here are some runner-ups from Karen:
The Boy, the Mole, the Fox and the Horse by Charlie Mackesy
Becoming Duchess Goldblatt by Anonymous
Shelly's Picks
You Should See Me in a Crown by Leah Johnson.
I know this book received Reese Witherspoon's stamp of approval so mine may not be necessary but I want to give it to you anyway. Introverted Liz Lighty has no dreams about being popular or getting any recognition from her peers. All she wants is to do well in her school's band and get a scholarship to her dream school where she can pursue her goal of becoming a doctor. But when she does not get the scholarship that she's counting on, Liz decides that running for prom queen might be in her cards. Her small town idolizes the event and even has a great scholarship for the prom court. If you're a fan of books with great loveable characters, you are in for a treat with You Should See Me in a Crown! I adored Liz and really wanted all the best for her. This book is Johnson's debut novel and I'm sure after reading this book, you will join me in eagerly waiting for her next one.
I already included this book in the staff recommendation list for all of VPL but I can't miss another opportunity to discuss this delightful book. I'm a huge fan of modern romance novels and this book's combination of swoon and nerdy was perfect for me. This book stars Marcus, an actor who is well-known for his role as Aeneas in a big TV show. Marcus  loathes how the show creators have adapted his favourite book series so he takes matters into his own hands and writes fanfic to fix the show's faults. The book is also narrated by April, a geologist who also spends her time writing fanfiction and she even dabbles into the world of cosplay. Internet trolls throw the two narrators together and I don't want to say more for fear of spoilers. This book was so delightful and sweet and I absolutely adored it. Definitely one of my favourite romances of the year!
I have read quite a bit of non-fiction this year and one of the most memorable among the bunch is Chanel Miller's Know My Name. This is one of the first books I read in 2020 and it still stayed with me throughout the year. Miller's speech as Emily Doe at the Brock Turner trial is one that will be remembered for generations and this book really lets readers learn about Miller outside that one event in her life. I found Miller's story compelling, even though it was hard to read, and I admire her writing. Chanel Miller really cements herself as an artist and skilled writer with this memoir, and I am sure that readers will be blown away with her talent, just like I was. I highly recommend this title, not as it relates to the infamous Brock Turner case, because Miller is definitely a voice to watch for and I am highly anticipating whatever she does next.
If you've read any of our recommendations, please let us know in the comments so we can discuss! I know it was hard for us to choose only a few books that we loved, so we'd love to hear about your favourite books of the year or discuss out list!