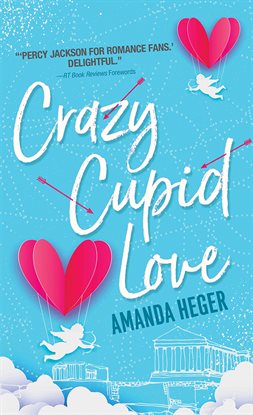 In these uncertain times, I find myself wanting to turn to happy books. While romance is often criticized for being shallow and idealistic (trust me, I've heard it all before), I think it's the perfect escape. I will admit that some plot points are cheesy but I like the idea that there's a guaranteed happily ever after.  I also find that main characters, especially in more recent novels, tend to be feminist and recognize that  love does not solve all of their problems. If you're looking for a happy escape like I am, feel free to check out any of my suggestions below! They're all available on Hoopla, free and without wait times. The only condition is that you're limited to ten titles a month, so I would choose wisely.
Crazy Stupid Love by Amanda Heger: This rom-com has a fantasy twist in which the descendants of Greek gods live on earth. It's been described as "Percy Jackson for romance fans" and it's probably the best pitch I've ever heard.
Acting on Cue by Mia Sosa: Acting on Impulse is the first book I read from Mia Sosa and quickly made me a long-time fan! In this book, a fitness trainer and an actor meet on a flight Aruba and sparks fly. Of course, the true test of their connection begins when they arrive home. It's the first in a series and I recommend picking up the second book as well.
The Awkward Path to Getting Lucky by Summer Heacock: This laugh-out-loud funny romance is perfect for people who love slightly unconventional premises with a great cast of characters. The main character runs a bakery so not only does this book have a great romance, it also has amazing food descriptions. If that does not sell you, I don't know what will.

Neanderthal Seeks Human by Penny Reid: I've heard so many great things about Penny Reid and this is the book that started it all! This is the first book in the Knitting in the City series, a rom-com series that revolves around a group of  women who are in the same Chicago-based knitting group.
Hate to Want You by Alisha Rai: Alisha Rai is one of my favourite romance authors and the Forbidden Hearts series is one of the best contemporary romance series I've ever read. It has all of the best classic romance tropes like forbidden romance (due to feuding families), family dynasties, undeniable chemistry, and a series that gives a love story to all of the large cast. If you're new to romance, this is definitely a series that I recommend.
Hoopla has many more titles from authors that I've always wanted to try like Tessa Bailey and Nalini Singh so I definitely think this won't be the last time that I browse through the platform! Make sure to let me know in the comments below if you've read any of these books before or books by these amazing authors and what must-read books I'm missing!