One of the best literary subgenres is books about books, and the April reading challenge prompt celebrates that! This month's challenge is all about books that have a literary setting, whether that is a library (the best location), a bookstore or anywhere else that has lots of books. What is also surprising about this setting is that while it may seem like contemporary fiction is the default subgenre, there are lots of books set in a literary setting where the genre may seem unexpected! Here are some of my recommendations below and as always, you can find this list and more recommended reads on the library catalogue where you can request these books for yourself.
Fantasy
The Midnight Library by Matt Haig: Voted one of the best books of 2020 by Goodreads users, you have probably heard about this book. The concept of this book lends itself to being more on the speculative or literary side but it definitely falls into the realm of fantasy. In this book, Nora Seed finds herself at The Midnight Library, a place where all the books pertain to her. One book tells the story of her life as it is while the other books all contain a life she could have lived. This book ultimately becomes philosophical as readers contend with what choices they would make if they were presented a similar book and what it means to have a fulfilling life. The author's other fiction novels are also quite philosophical and the author has also written a memoir titled Reasons to Stay Alive, which details his experiences with depression.
The Starless Sea by Erin Morgenstern: Similar to the book above, The Starless Sea starts off with the premise of the main character finding a book about his own childhood. In this book, Zachary also discovers a series of clues (a bee, a key, and a sword) that lead him into a secret underworld filled with wonder– a place of pirates, painters, lovers, liars, and ships that sail upon a starless sea. With nonlinear writing, the novel also includes lots of stories embedded within the book that feature different mysteries and places. For those who prefer audiobooks, the audiobook of the novel (which is available either via stream or via CD) features a few different cast members which always makes the audiobook experience quite interesting.
---
Historical Fiction
The Paris Library by Janet Skeslien Charles is a fictional account of the true story of the American Library in Paris where librarians defied orders and hand-delivered books to Jewish readers. It is a dual point-of-view novel that focuses on Odile in the 1930s in Paris and later, the story of her neighbour in 1980s Montana. In the 1930s, Odile is a bibliophile who has her dream life but it is threatened when the war breaks out. She joins the resistance with the one weapon she is more familiar with: books. The nature of this book makes it perfect for those who love books (and librarians!) and for those who are interested in history and stories of courage. If you are as interested in the real-life story as I was, you can also check out this article from the Library Trends journal by Mary Niles Maack that details the history of the library from 1939-1945 as well as the discussion guide for the book from the publisher which provides more details about the author's inspiration for the novel.
The Giver of Stars by Jojo Moyes: Jojo Moyes is known for writing characters that just stick with you and the protagonists of The Giver of Stars are no different. The novel focuses on 1930s Kentucky where a group of five women are on a mission to provide books to their community through a new travelling library program. These women become known as the Horseback Librarians and the novel is inspired by the very impressive true story of the librarians of Kentucky who hand delivered books to those in remote areas at impressive rates (e.g. in 1936, the packhorse librarians served a total of 50,000 families and in 1937, 155 public schools). Fans of history, character-driven readers, and stories of remarkable women will definitely enjoy this read. The novel is also available in electronic book or listening formats.
---
Mystery / Suspense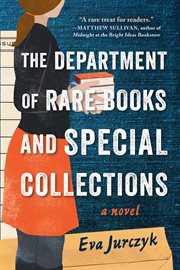 The Department or Rare Books and Special Collections by Eva Jurczyk: From Toronto-based author, this mystery follows Leisl, a librarian who discovers that a rare and priceless manuscript has gone missing from the collection. Leisl attempts to get authorities involved but she is thwarted by the library higher-ups and when a colleague goes missing, she realizes that she is going to have to solve the case herself. This one is sure to be perfect for those who are curious about university libraries, as the novel is based off the author's own experience working at the University of Toronto libraries and in particular, the mysteries of the Thomas Fisher Rare Book Library and the staff that she met there. This is a great read for those who want to expand their reading horizons this year by reading more works by Canadian authors while also reading an intriguing novel in a place that remains mysterious to outsiders. While the physical copies of the book have a long waitlist, you can access the title as an ebook instantly via Hoopla.
Home Before Dark by Riley Sager: This novel fills the prompt of the challenge in a unique way as the novel does not take place in a bookstore or library but rather it is set in a haunted house that was the inspiration for a novel that exists inside the book's plot. The novel follows a young woman, Maggie, who inherits an estate in Vermont that her family lived in when she was a child for a few weeks before her family fled from the terrors within. Maggie doesn't remember anything about her time there but the horrors are all laid out in a best-selling book written by her father. When her father passes away and she returns to the house of her childhood, she is skeptical about what she will find there. Home Before Dark is a book of the supernatural thriller variety, making it fulfill the reading challenge prompt in a very unique way as the book is about a literary setting, but not in the way you expect it. As with most books on this list, you can borrow it as an ebook.
The Other Black Girl by Zakiya Dalila Harris: This novel is pitched as The Devil Wears Prada meets Get Out which almost feels like the only thing I need to say about why you should read it. The novel focuses on 26-year-old Nella Rogers, editorial assistant at Wagner Books and the only Black employee in the office. She is delighted to be joined by another Black woman, Hazel, at the office but Nella soon finds herself to be the office outskirts after a few incidents make Hazel the golden employee. Just as quickly, Nella also begins to receive notes at her desk that warn her to leave the office. This book is perfect for fans of suspense and for those who want a look at the book publishing world. The novel became an instant New York Times bestseller upon release and was hailed as one of the best books of 2021 so it is also the perfect pick for book clubs if you want to accomplish the challenge with a group.
Eight Perfect Murders by Peter Swanson: for those who are fans of mystery novels in the classic whodunit style are in for a treat with this book. The novel starts with bookstore owner Malcom who has to meet with the FBI after an agent thinks that a cold-blooded killer is choosing victims based off a blog post that Malcom wrote years ago, in which he listed "eight perfect murders" that are found in crime fiction. The connection between the post, the books & Malcom will keep readers very engaged as the narration in the novel also starts to become unreliable. If you are looking for a classic mystery, Eight Perfect Murders is available from VPL as an e-book, streaming audiobook and in large print.
---
Romance
Much Ado About You by Samantha Young: Needing a break from her day-to-day life, 33 year old Evie books a holiday in England to flee her Chicago letdowns, such as losing a promotion and being stood up on a date after a month of online flirting. She is obsessed with Shakespeare and she jumps at the chance to take a holiday that comes with a temporary position at the bookstore beneath the rental apartment called Much Ado About Books. Evie is soon enamored with the town and the bookstore but she is doing her best to resist the charms of the farmer next door as she is determined to save herself from heartbreak. Rom-com fans who have already read the most popular books (like the novels of Emily Henry) and those who are similarly obsessed with literature like Evie are in for a great romance read.
Bromance Book Club by Lyssa Kay Adams: this is another book that fills the challenge prompt in an interesting way! While there is no bookstore or library setting, there is a book club, which is a library staple. This is the first book in a romance series that stars the men of Nashville, local business owners and sports players, that turn to romance novels for advice in their love lives. In this novel, a hockey player attempts to win back his wife's affections. Interestingly, the popularity of this book series has also inspired the author to create a book subscription service called Men Read Romance for men who enjoy romance novels just as much as the characters in these novels & the series has been optioned for film/television by Netflix.
If none of these books catch your eye and you want some creative interpretation of the challenge, you can always turn to children's novels like Inkheart which is a novel in which fictional characters come to life or even non-fiction like The End of Your Life Book Club. One of the best parts of this prompt is that you can interpret it loosely, as long as it's a literary setting in some way– the book counts! For more information about the challenge, visit our Reading Challenges 2022 home page and to keep track of the books you read, download this fillable .pdf!