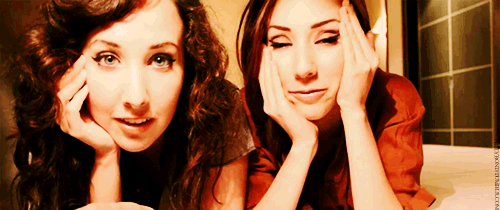 Hiya Geeklings!  Happy International Women's Day!  Whether a woman, a girl, or a fan of both, today's the day to celebrate how far we've come and the strides we've made.  For a couple of books to take a look at click here and here.
Today, I thought I'd take the opportunity to focus on two sisters who, while they may not be changing the world per se, have taken something they love and have created a huge presence online with it.  Their YouTube page has almost 1.3 million followers and their latest video has almost that many views in just five days.
Who'm I talkin' 'bout?  Hilly and Hannah Hindi and their channel The Hillywood Show.  What do they do?  Parodies of their favorite fandoms in the form of elaborate musical numbers based on popular songs and featuring seriously awesome cosplay and terrific production values.
Observe: Their latest video that combines Lady Gaga with Suicide Squad.
OH MY GOSH!  THE COSTUMES!  AND LOOK HOW MUCH EVERYONE LOOKS LIKE THEIR CHARACTERS!  AND THE DANCE NUMBERS!  You gotta hand it to them, they is talented, and for fans of these fandoms these videos are fun and squee worthy.
How about a few more examples?  A few of my favorites include a Taylor Swift ode to Supernatural with with MANY surprise guests at the end.
Or how about one where Middle Earth meets Frozen?
Here's one where Hocus Pocus mashes with The Nightmare Before Christmas.
And the Doctor gets a little help from Rocky Horror.
And this last vid isn't a parody, but I like it.  It's the girls going to the Harry Potter Studio Tour and fangirling all over the place.
You can find more of their videos on their YouTube page (parodying Potter, The Hunger Games, Sherlock, Pirates of the Caribbean, etc), and you can read about how this whole thing came to be in this article at Geek and Sundry.
I guess the lesson to take away from the Hindi sisters and today in general is that women are, and always have been, capable of amazing things.  Whether it's something as earth shattering as a new invention or something that creates as much joy as a musical parody, it's always great to take a moment to realize that women, and people in general, can accomplish almost anything so long as the drive, the hard work and the love are there.
Stay awesome geeklings, and until next time, End of Line.
Tags: Doctor Who, Harry Potter, Hillywood Show, Hocus Pocus, International Women's Day, Lord of the Rings, Suicide Squad, Supernatural, Week of Geek