This may come as a shocker.  Everyone brace yourselves…your favorite blog writer (me) is actually a bit older than y'all.
WHAT? NO! REALLY?
I know, right!  Who knew?  But it's true.  And I mention that so that when I go into this whole thing about a character named Jem, you'll know I'm coming from a position of experience in this matter.  So here we go…
We got a trailer for a movie due this October that features a fictional girl band that was a pretty big staple during my childhood.  Observe…
Yup, Jem is coming back!  As in Jem and the Holograms, who first appeared in the animated show Jem all the way back in 1985 (30 years ago; totally dating myself here).  It was about Jerrica Benton, a young girl who inherits both a music company and a foster home for girls from her late father, and uses her dad's invention, an AI program named Synergy, to create the holographic illusion of Jerrica's alter-ego Jem, who leads the band The Holograms, consisting of Jerrica's younger sister Kimber and their adopted sisters Aja and Shanna.  The Holograms are constantly up against rival group The Misfits, who act as the main villains of the show, along with a greedy rival music head.  Here's the opening titles…but you might want to shield your eyes a bit here.  These are some very strong neons coming at you!
Yeah, I know.  It was a different time, people!  Sure the animation was crummy, the songs were half-baked at best, the whole thing was cooked up by Hasbro to sell toys (that was the goal of just about every cartoon back then) and the colors alone are enough to give you eye strain.  Having said all that, this still holds a place in my heart.  It was glamorous and exciting for kid-me to watch on syndicated TV back in the day.
So what do I think of this new film version, people may or may not be wondering?  After watching the trailer, I greet this with a resounding 'meh'.  Actually more of a disappointed 'meh'.
Seems to me that the only thing that's survived the original storyline was four girls, a band and bright pink.  Otherwise this could be any run-of-the-mill girl-doesn't-know-she's-talented, girl-finds-out-she's-talented, girl-lets-fame-go-to-her-head-and-we-all-learn-a-valuable-lesson movie.  Where's the artificially intelligent program that uses hologram-based entertainment tactics that adds a nice Sci Fi touch to the proceedings?  Where's the girl trying to save her company and her family?  Where's the over-the-top fashion and glamor?
I may be protective of this, but I don't think I'm being too biased.  Especially since I saw a recent reboot from another medium that is just way, way cooler than what this trailer is hinting at.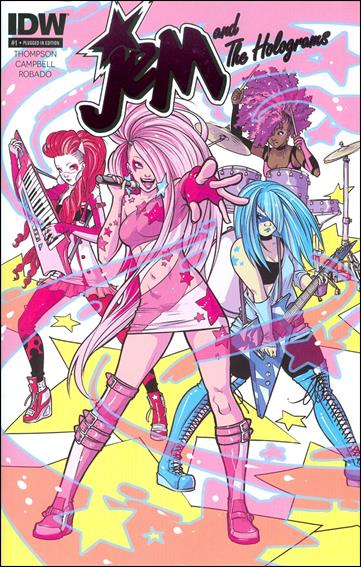 IDW Comics has come out with it's own Jem and the Holograms series.  I've read the first issue, and gotta say it made me love The Holograms all over again.  This series focus' on Jerrica and the band trying to get their first big break but Jerrica has a crippling case of stage fright, to the point that the band is running out of money and on the verge of breaking up.  But then the girls discover Synergy, and Jerrica now has a way to hide behind the Jem persona and become the star her sisters need.  But it'll bring a whole new set of troubles, I'll wager, especially going up against reigning girl group The Misfits.
See?  Much more interesting.  And the artwork is great, super colorful without being to grating.  This is what I'd expect a reboot of The Holograms to look like.
So not all hope is lost when it comes to taking an 80s icon and rebooting it for the new millennium.  I just hope the movie isn't as dry as it seems to be.  Will you guys give either of these a go?  (The comic is still in it's initial run but once it's out as a graphic novel we'll see if we can get it in for VPL).
For more info on this decade of painful fashion and hair choices, but with long-lasting influences in other mediums, check out some of our books, like Movies of the 8os, Fifty Fashion Looks that Changed the 1980s, VJ: The Unplugged Adventures of MTV's First Wave and The Times of the Eighties: The Culture, Politics and Personalities that Shaped the Decade.  There are also documentaries like 80s Tech (so much of the technology you use everyday got it's start during that decade).  And, above all, you gotta check out the music.  Try Sounds of the 80s, which features contemporary artists trying their hand at 80s hits.  Or, for a sampling of the originals, try The 80s.
And if you think all of this is weird, and it is, just remember; it's what was done in the 80s.
Showtime Synergy, and until next time, End of Line.