Hi Geeklings!  Everyone have a good long weekend?
Couple of interesting things over from Warner Bros and DC to report this week.  Looks like Supergirl is getting her own movie.  After the success of Wonder Woman and of the small-screen Supergirl series, it seems Warner Bros is willing to take another chance on the teen superheroine and bring her back to movie theaters (an attempt was made in 1984, but the less said about that the better).  For anyone unfamiliar, Supergirl is Superman's younger cousin and a hero in her own right.  She has the same powers as her cousin and is known as the Girl of Steel.  Details are super scarce at the moment for a film version, but regardless it's still exciting news!
While DC's big feature films are hit and miss, it's television universe is thriving and growing.  The Supergirl TV series is part of the Arrowverse, a collection of series that began with Arrow and are all interconnected and have frequent crossovers.  It was recently announced at San Diego Comic Con that Batwoman will join the Arrowverse, possibly with her own show.
And she's also been cast.  Exciting times!
So how to get in on this?  Well, for Supergirl may I recommend…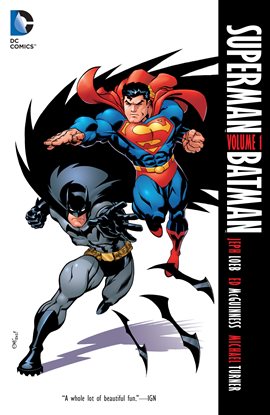 Superman/Batman Vol. 1 by Jeph Loeb – I LOVE this series, it actually got me back into reading comics in my 20s.  This volume collects the first two storylines, and the 2nd one reintroduces Supergirl after she hadn't been in the comics in years.  Superman, Batman and Wonder Woman are all here, as well as Big Barda and villain Darkseid.  Everyone is shocked when Batman discovers the pod carrying Kara Zor-El in Gotham harbor, and now everyone, including Kara, has to decide what must be done, especially when someone as powerful as Darkseid catches wind of her arrival.  The events of that story were also made into an animated movie (I personally preferred the comic, but give both a try).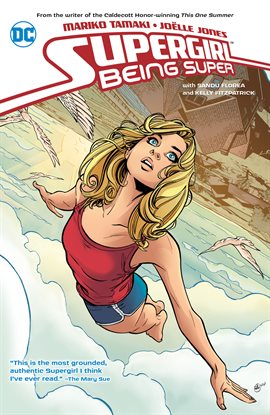 Supergirl: Being Super by Mariko Tamaki – This four-issue stand-alone series took a more YA approach to Supergirl, her origin and her day to day struggles.  Kara Danvers has superpowers and crash landed to earth in a ship, but she's fine to put all of that aside as she tries to deal with the pressures of high school and hang out with her friends and adoptive parents.  As Kara gears up for her 16th birthday an earthquake in her small town unearths some dark secrets, some misplaced trust and kicks her superpowers into overdrive.  Will she figure everything out or will this be her undoing?  You'll have to read to find out.
Supergirl TV Series – Launched in 2015, this popular CBS/CW series has introduced a new generation to Kara, and it's popularity has helped convince Warner Bros to give a movie a chance.  In this series Kara Zor-El is sent to earth from a dying Krypton like her cousin Kal-El.  But Kara is 13 years old when she's sent and was tasked to watch out for her baby cousin.  But when her ship is sent off course and finally arrives on earth decades later Kal is grown up, now named Clark Kent and famous the world over as Superman.  Years later, when Kara is 24 she attempts to launch a superhero career of her own, trying to get out of her cousin's shadow and to hold a normal life at the same time.  (And yes, Superman does make an appearance in this show, but not until season 2.  Patience.)
Supergirl: Age of Atlantis by Jo Whittemore – If you're digging the TV series and want more, there's a book series tie in!  In this volume Kara has noticed that a lot of superpowered people are turning up in National City, but if that weren't enough the Department of Extranormal Operations has caught a sea creature… a humanoid one.  So Kara now has 2 mysteries to sort out; all the superpowers showing up and what drew this individual from the sea to the city.  There's also a collection of digital comics that tie into the series as well.
You can find the rest of the Arrowverse shows from our collection in this handy list.
As for Batwoman, be sure to read…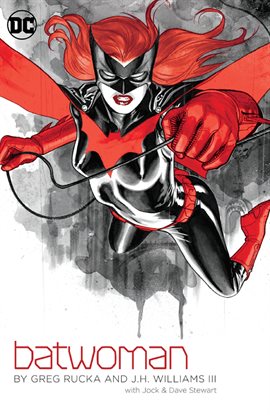 Batwoman by Greg Rucka – This first volume introduces us to the New 52 version of Kate Kane, showing her backstory and her current work as Batwoman.  Former military, kicked out for being gay, Kate decides to take inspiration from Batman and begin fighting crime herself.  But a new threat comes to Gotham; the Religion of Crime and it's riddle and storybook loving leader, known only as Alice.  But Alice may have secrets… secrets that tie to Kate and to her family.  It's a riveting tale and a great introduction to this thoroughly modern hero.
What do we think Geeklings?  Excited?  Meh?  Keep giving us Marvel?  Post away in the comments or on WriteIt.
Have a great week, try to stay dry, keep your eyes peeled for Fan Con news, and until next time, End of Line.