Come John! They have issued us a challenge. We accept!
John Watson: We do?
Sherlock: Yes, yes. Come on! Time waits for no man so devil take the hindmost and let us be off!
John Watson: But where are we going? Sherlock, details! I can't read your mind remember. And will you slow down!
Sherlock: Slow down? The countdown is on! We are running out of time! We need to get to the library! There are mysteries to be solved John. Mysteries!
John Watson: Well, yes of course, but what mysteries? Which library? What time? And why are we running? For heaven's sake Sherlock for the last time I am a doctor not a psychic!
Sherlock: John, do you not know? How can you not know? Faster man!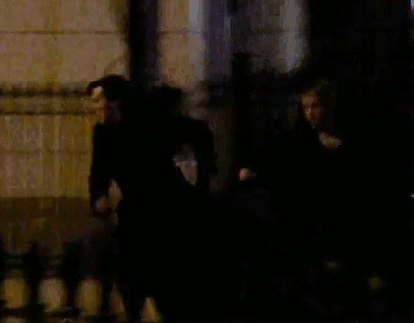 John Watson: To be quite honest I don't. Would you mind explaining? What are you? Part gazelle? Will you please slow down!
Sherlock: The library John! The Vaughan Public Libraries have issued a challenge to solve the mysteries of the Locked Rooms! They expect people to solve whatever maniacally clever contraptions they have devised in hopes of preventing us from escaping. They want us to Escape the Library John. Do you know what that means!
John Watson: For once spending Saturday evening locked up with nice regular people instead of ones trying to kill us?
Sherlock: YES! You always go on about how we should get out more often so now we can. It'll be fun John. Just think of the possibilities! Think of the riddles. The codes. The cypher keys. The encrypted messages. The ticking time bomb!
John Watson: Wait…what?!
Sherlock: I meant that metaphorically. It adds to the suspense.
John Watson: I'm sure it does. But what time does it start? Or rather when?
Sherlock: Saturday. The 28th. Of November. After hours only. At the Bathurst Clark and the Pierre Berton libraries. The message said they lock the doors at 7:00pm and it is supposed to end at the final stroke of midnight. Five hours locked in with strangers, books…and librarians.
John Watson: Really?
Sherlock: Yes. Really. Also, there will be food. And some sort of prize. And a movie, for those that prefer that sort of thing.
John Watson: So a regular Saturday night out then?
Sherlock: Indeed.

John Watson: Well. That doesn't sound so bad. But, do they know we're coming?
Sherlock: Of course they do. I have signed us up months ago. I do not leave situations like this to mere chance.
John Watson: And you're only telling me about this now?
Sherlock: You have always said you wanted a surprise that would not be the death of you. So…surprise.
John Watson: How considerate of you Sherlock. I do believe you're starting to grow as a person. But before we go promise me that you'll give others the chance to solve some of the problems.
Sherlock: What? Why? No!
John Watson: Sherlock. We talked about this.
Sherlock: sigh Fine.