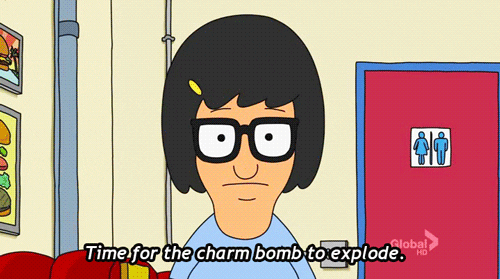 Hello again Geeklings
How we doin'?  How's the weather?  We got our first taste of winter this week.  We liking it?  Not really?
I'll admit, it's been kinda 'blah' the last few days.  I understand that's kind of typical for November, but still there's 'blah' and then there's 'blah', and this is 'blah'.
So, as a public service from a public librarian, allow me to suggest my new favorite thing that may help keep the blahs away.  Some of you may already be familiar, some of you may not, but it may be worth a try.  I give you… Bob's Burgers.
An animated half-hour comedy in the same vein as The Simpsons or Family Guy, Bob's Burgers follows the adventures of the Belcher Family, who live above the burger restaurant they run in a fictional New Jersey shore town.  Patriarch Bob (voiced by H. Jon Benjamin, who also plays the title character in Archer), who cooks the burgers, is the most down-to-earth of the bunch, but if you rub him the wrong way you get some interesting reactions.  Though not great with business, he knows his way around a burger and a pun (see the Burger of the Day written in chalk in the restaurant each episode).  His wife Linda is loud and nasal but cheery with Broadway aspirations.  They have three children; Tina, Gene and Louise, ages 13, 11 and 9 respectively.  Middle child and only boy Gene has a sunny disposition much like his mother and is a bonafide showman, taking the opportunity to use his keyboard whenever possible.  Youngest daughter Louise is… interesting.  Smart but manipulative and aggressive with a dark sense of humor, Louise is a bit of a criminal mastermind but also has a soft spot that shows up every now and then (also, she's voiced by Kristin Schaal, who I adore and who also plays Mabel on Gravity Falls).
My favorite is Tina.  The oldest Belcher child, she is the quirky, awkward, weird, nerdy teen girl in all of us.  And she's voiced by a guy, who uses a low monotone, and it's hilarious.
(BTW, Linda is also voiced by a man.  Louise is the only member of the family voiced by a woman)
Though the show had a couple of uneven first seasons it's only gotten better with time (it's now airing it's seventh season).  Fair warning; it can get pretty gross at times.  I almost wrote the show off entirely after watching the pilot episode because it was just disgusting, and have only recently given the whole series another shot.  But if you can get past the occasional grossness, the writing is sharp, the characters are endearing and the voice acting is top-notch.  Here's a few clips to give you a taste.
So place holds on our DVD copies here.  We've also got some graphic novels and a cookbook.
Hang in there Geeklings, the holidays are coming, and until next time, End of Line.