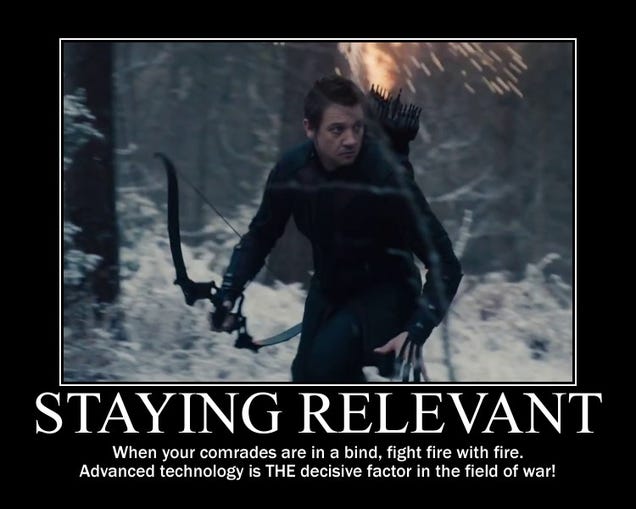 It's okay Hawkeye, we still love you!  Even if your weapon of choice hasn't been regularly used in battle for a good few centuries
 You make it work!
Speaking of which, a little something came online on Jan 12th.  Without further ado…
I KNOW, RIGHT?!
So some pretty awesome stuff, including more footage of the Hulk Buster armor (sooooo stoked to see that!).  The trailer's got quite a few sites scrambling for comic theories due to the split-second appearances of two women (one seen by what appears to be an underground lake, and one that can barely be seen behind Thor, apparently attacking him with lightning).  There are plenty of theories about this (click on this link to MovieWeb for a more detailed rundown), but I'll give you the cliffs notes version.  Most people are speculating that the woman by the lake (and the appearance of Andy Serkis, who most fans agree is likely playing villain Ulysses Klaw, though Serkis' character has not officially been revealed yet, so don't quote me) may have something to do with the inevitable introduction of the Black Panther and the fictional nation of Wakanda.  So who is she?  One of the Dora Milaje?  Shuri?  Some have argued she's Death herself, though that doesn't make much sense to me.  And what about the woman behind Thor, possibly wearing green?  Moondragon?  Hela? (Boy, that would make for some family drama in the next Thor movie)  Enchantress?  SO MANY QUESTIONS!  And no answers until May
But with these new head-scratchers, plus the introduction of the Scarlet Witch and a possible hint we'll see more of Black Widow's past, AOU's got me thinking about all the butt-kicking women unveiled in Marvel and elsewhere.  There are some up-and-comers to watch, so let me break it down…
Firstly, have you seen Agent Carter yet?  'Cause it's AWESOME!  And Carter's going to make an appearance in AOU in a flashback.  She's kicking the patriarchy in the 1940s right where it hurts.
Then there's my new favorite comic series, The Unbeatable Squirrel Girl.
The first issue was just released last week.  I've read it, and I love it.  Marvel took one of it's lesser known characters, someone who's a bit of a joke amongst comic fans, and gave her a brand new, really funny series about Doreen Green/Squirrel Girl starting college and trying to maintain a secret identity while still fighting crime.  BTW, she's 'unbeatable' because, despite her squirrel powers sounding a bit silly (OK, really silly) she's stood her ground against villains like Doctor Doom, MODOK and even Thanos.  Plus, for this new series, illustrator Erica Henderson draws Doreen as, you know, an actual human woman instead of the airbrushed supermodels that often populate the superheroine and villainess ranks in comics.  Brava!
And, just to prove I'm not completely biased towards Marvel (I swear I'm not!), there's the new TV series iZombie, due March 17th and inspired by the DC comic of the same name.  It features Liv (get it? 'Live'?), a med student who now "lives" as part zombie and works at the coroners office to feed on brains…which, incidentally, gives her a glimpse into people's memories and helps her solve crimes.
Super cool, huh?  It's starting to look like the people who make these comics, shows and movies are starting to realize there are fangirls out there and we want some representation.  And it's about time!
For a bigger look, try checking out The Secret History of Wonder Woman, the graphic novel Girl Comics or Action Chicks: New Images of Tough Women in Popular Culture.  And for a bit of an introduction to the rise of fangirls, try Geek Girls Unite: how fangirls, bookworms, indie chicks and other misfits are taking over the world or Fangirl's Guide to the Galaxy: A Lexicon of Life Hacks for the Modern Lady Geek.
Can't wait for the Wonder Woman movie or the Captain Marvel movie.  I so wanna be part of the Carol Corps.
Join the corps by starting here and here.  We salute you Captain!