Hi again Geeklings!  How's the new year treating you?  Glad to be back at school?
So, I'm not sure if you've noticed this lately, but the landscapes of many television sets and movie theaters are starting to resemble zombie movies a little bit.  How?  Because a lot of franchises, thought long dead, are returning.  RETUUUURRRRNING!
As a teen of the 1990s (yeah, I'm old) I've noticed that a lot of the shows I remember watching around that time are suddenly getting new episodes.  The decade of my childhood, the 1980s, has already had a bit of a resurgence (what with Transformers getting a bunch of movies, My Little Pony getting wildly popular with Friendship is Magic, and Stranger Things working the 80s pop culture references and whatnot), but now the 90s are getting another look.  It's looking like even the clothes are coming back.  It's… weird, to say the least.  Yep, it's Aunty Ali's Nostalgia Moment kids, buckle in…
I mean, any time period when you're a teen has it's awesome stuff and it's not-so-awesome stuff but sometimes I look at you guys and think 'Man, we did not have these kinds of things and issues when I was growing up' (you know you're getting old when…).  We didn't even get a computer in my house until I was, like, 12, let alone the internet ("Get off the internet, I'm trying to make a call!").  Cell phones?  Nope, not until at least my last couple of years of high school, and those were strictly for phoning people.  I watched something the other day about extinct technology and realized that a lot of it was stuff I used when I was young.  I just… feel so OLD.
But the fact that shows I watched are not just re-airing but getting new episodes?  Apparently that's a trend, and has been for a while now.
Will and Grace?  Just launched a new season.  Twin Peaks?  They had a 'limited event series' just last year.  The X-Files?  Uh huh, Mulder and Scully are back (also in picture book and YA form).  The Powerpuff Girls?  New series.  Power Rangers?  Had a new movie come out last year.  Jumanji?  There's a sequel currently in theatres.  Ducktales?  Reboot series right now on DisneyXD (with David Tennant voicing Scrooge McDuck, squeal!).  Sailor Moon?  We got Sailor Moon Crystal for a new generation.
It goes on.  And I just heard that Animaniacs is coming back.  Wha?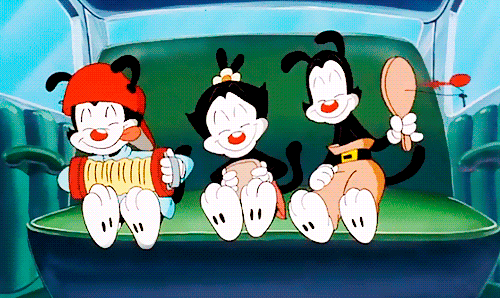 My question to you Geeklings, is this…  What are you loving right now that you kind of hope will make a comeback in 20 years?  What do you think you'll feel nostalgic for in your 30s and beyond?  Or what do you think you'd like to introduce your kids to?  Post in the comments or wax nostalgic on WriteIt.
Have an awesome week, whether stuffed with 90s references or not, and until next time, End of Line.