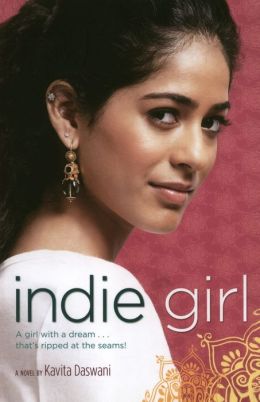 A girl with a dream… that's ripped at the seams
Indie Girl is Kavita Daswani's  first teen novel that is based on the life of a girl named Indira Konkipuddi who dreams to become a Fashion Reporter. Fifteen year old Indie is an average US born Indian girl; working hard to please her Indian parents but still trying to fit in and be a cool trendy teenage girl. But her genuine dream is to become "Fashion Reporter Indira Konkipuddi" of the glamorous magazine Celebrity Style. Indie studies fashion religiously to land with the magazine. After attending a talk by Aaralyn Taylor, editor of the hottest trend magazine Celebrity Style, Indira resorts to desperate measures to clinch the summer intern position, only to be called on repeatedly as last-minute babysitter to the woman's toddler instead. Indie spends her weekends cleaning Aaralyn's son's diaper or cleaning Play doh off Aaralyn's Persian carpets, and pretty soon she starts asking herself- will Aaralyn ever see her as anything more than just the hired help?
Things don't pan out exactly as planned with Indie. With the intern ship  in head to taking care of  a fussy toddler and pleasing Aaralyn has become a big burden to Indie. Then Indie finds out that Celebrity Style is in trouble as it is loosing all the  juciest scoops which becomes her biggest chance to get the intern ship from Aaralyn. She had learned from her sources that Hollywood's hottest star is having her wedding dress made in a village in India. Indie's sure she's scored the juiciest gossip in town — the kind of story that will put the magazine back on the map. Is this her biggest lifetime oppurtunity or a joke?
Indie Girl by Kavita Daswani was a very cute, decent book . This is a lighthearted teenage book. It would have been a bit boring if not for the Indian culture though. It was truly amazing and I can relate to the character of Indie with my life because we share the same emotions at times. For example when Indira became very sentimental for being forced to leave her passion for fashion. I would feel the same for being forced to leave a passion of reading  The ending didn't leave me content. It felt harsh and abrupt. Not much was resolved. This novel was not the best one to read but Kavita has written many greats ones that I recommend.