Hi again Geeklings!  Some of you may be looking at that post title and thinking 'The Return-a WHO-ra?'  Yep, yet another 1980s property is getting a reboot, but this time I think it's going to be pretty awesome.  We just got our first look at some of the art for She-Ra and the Princesses of Power, and I, for one, am SUPER stoked this particular 80s property is getting a new treatment.  Let me tell you why…
(Yup, heads up, Aunty Ali's getting all nostalgic up in here.  It's one of THOSE posts.)
Let me take you back to 1985.  Live Aid concerts were going on.  New Coke had just been introduced.  The Nintendo Entertainment System came out in North America.  What a time to be alive.  But you know what else debuted that year?  She-Ra: Princess of Power.  It was a spinoff of the Masters of the Universe franchise that toy maker Mattel released in 1982, which featured He-Man (yes, He-Man), Skeletor and others.  The 80s were a weird time, don't judge us!
Basically, the whole franchise is what you'd file under 'Sword and Planet' fiction.  A little bit of space, a little bit of Sci Fi, a lot of swords and magic (Thor could be cataloged under that genre too).  For He-Man and the Masters of the Universe, it's set on the planet Eternia.  Prince Adam becomes He-Man when re raises the Sword of Power and declares 'By the Power of Grayskull', referring to Castle Grayskull where he draws his power from.  With the help of his friends, He-Man defends Eternia and Castle Grayskull from the evil Skeletor, who wants that power for himself because of typical super villain reasons (funny thing about Skeletor; he looks plenty creepy but then you hear his voice and you can't help but chuckle).
There were a LOT of other characters, because Mattel wanted to sell action figures to kids.  Was it a shameless way to make money?  You bet.  Did it work?  Yeah, pretty much.  They made millions of dollars.  But, as the awesome Netflix series The Toys That Made Us explained during their episode about He-Man, the people at Mattel couldn't help but notice that it wasn't just boys playing with these action figures.  Girls were playing with them too, which nobody really expected.  So what to do?  Appeal to girls and sell even MORE toys, of course.  Enter She-Ra.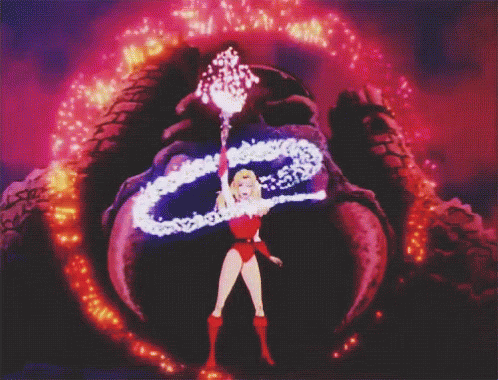 Mattel went to the people working on Barbie and asked them to come up with something, and that something turned out to be She-Ra.  Princess Adora is Prince Adam's long-lost twin sister, who was kidnapped as a baby by the evil Hordak and raised on the planet Etheria to be a villain.  When Prince Adam finds her and frees her, she decides to stay on Etheria and lead the rebellion.  Like her brother she wields a sword, the Sword of Protection, and can transform into She-Ra when she holds it aloft and calls on Grayskull.
So there are some brief summaries of very indepth franchises that have had several reboots through the years.  Yep, I watched the originals as a kid, both He-Man and She-Ra, and have many fond memories… I even had some of the toys, as did my brothers.  But I am really excited about this new one, officially called She-Ra and the Princesses of Power.  First, the animation looks great.  As much as I loved the original Filmation series, it has not aged well.  This new version of She-Ra looks like a real girl, with a much more practical costume (I cannot for the life of me understand why anyone thinks you can fight in heels and really short skirts).  Canonically speaking, when we first meet Adora she is 16 years old.  Look at that gif up there from the original 80s show.  Does she look like a 16-year-old girl?  I think not (Adam/He-Man doesn't look 16 either, what heck?).  This new version of Adora looks the part.  Her friends look like real people too.  And did you see that pic of Bright Moon, the city on Etheria?  So pretty!  Plus, Dreamworks is behind all of this, and they do know a thing or two about animation.
But the other thing I'm really excited about is who's running the show.  Noelle Stevenson is one of the producers, and she's been making waves lately with comic series like Nimona and The Lumberjanes, which are both charming, inclusive and exciting series with complex and relatable characters.  I loved Nimona and the Lumberjanes, so I have full confidence that Stevenson can give this franchise the update it needs while still keeping the fans happy.  Plus, another producer is Chuck Austen, and he's worked on Steven Universe, another gorgeous, inclusive and complex show.  We're in good hands.
So we don't know too many details yet.  No word on whether He-Man will make an appearance, but I'm happy to focus on Adora for now.  The show premieres on Netflix in November (my birth month!) and as soon as it becomes available on Blu Ray or DVD we'll see if we can get it into the library.  In the meantime, we've got Noelle Stevenson's works to read and love (see links above).  If you want to check out the original animated series, we have The Secret of the Sword, which shows Adora's origin.  There's an official YouTube channel with quite a few episodes uploaded of both shows.  It's goofy and ridiculous at times but quite endearing.  We have a volume of the 2012 comic reboot of The Masters of the Universe as well.
Let me leave you with what may be one of the most insane yet AWESOME creations of fanart to ever come out of this franchise.  Have a great week and until next time, End of Line.