Hello Geeklings!
How was your weekend?  Fun, I hope.  Know how mine was?  I moved.  To my brand new home!  *happy sigh* New apartment!  Big bedroom!  Kitchen!  Living area!  Painting!  Unpacking after so much packing!  Buying things you never knew you didn't have!  Figuring out which parking space, locker and mailbox is yours!  Adventures galore!
As you can tell, I'm excited!  I know a lot of you guys are still living with the families, but your day will come.  Be it moving out for school or getting a place after getting your first job, there's nothing quite like having a space to call your own.  And of course, my very own space is going to be a fangirls dream.  'Cause it's me!
So of course, this whole endeavor has got me thinking about houses and homes in pop culture.  A home can be many things in our favorite stories.  A base of operations.  A gathering place.  A sanctuary.  And just so much more.  Let's look at some examples…
The Burrow, Ottery St. Catchpole, Devon, England: Home of the Weasley Family in the Harry Potter series, the Burrow is a mash-up of different houses with varying furniture and rooms all held together with magic and a prayer.  But there's a big yard for Quidditch practice, which is always a selling point.  And though the Weasley's may lack funds, they are never lacking in love, and their home reflects that so much.  I want them to adopt me.
Bag End, Hobbiton, The Shire, Middle Earth: As J. R. R. Tolkien himself wrote in the opening lines of The Hobbit: "In a hole in the ground there lived a hobbit. Not a nasty, dirty, wet hole, filled with the ends of worms and an oozy smell, nor yet a dry, bare, sandy hole with nothing in it to sit down on or to eat: it was a hobbit-hole, and that means comfort."  The home of Bilbo Baggins, Frodo Baggins, and then Samwise Gamgee and his family, Bag End is filled with comfy chairs and delicious food.  Bilbo was reluctant to leave it for his great adventure, and who could blame him?
Carl and Ellie's House from Up: There has probably never been a more versatile house than this one.  We first met it when it was an abandoned shack acting as a clubhouse for 2 9-year-old wannabe explorers.  It then turned into a restored home for those same children when they grew up and got married.  Later on, the home they built together would turn into a makeshift airship with the help of thousands of balloons, and launch skyward into an amazing adventure.   The house itself represents so much about what makes a home a home, and just what it can mean and what it can become.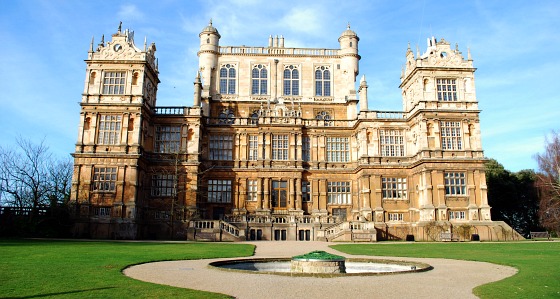 Wayne Manor, just outside Gotham City, USA: Like it's owner, Wayne Manor has many secrets.  Though on the surface it appears to merely be the stately home of the Wayne Family going back several generations, deep underground is a massive cave Bruce Wayne discovered as a boy.  That cave later turned into what is now known as the Batcave, the headquarters and base of operations for Batman and his partners.  Though the films and comics have often shown Bruce also owning penthouses and other residences that also act as Batcaves, Wayne Manor is the residence most utilized across all stories, and has been a home not only to Bruce, but to his butler Alfred and to several Robins over the years.
742 Evergreen Terrace, Springfield, USA: Over the Simpson Family's many, many adventures (about 27 years worth) Home, Marge, Bart, Lisa and Maggie have always called this pink 2 story dwelling their home.  Sure they've moved a couple of times, but Evergreen Terrace is always where they end up again.  While hunting for my own home I often thought about Homer and Marge shopping for a new house in one of my favorite flashback episodes.  Thankfully I did not have to shop in any neighborhoods referred to as "Rats Nests".
221B Baker Street, London: The stories of Sherlock Holmes have had many incarnations, many authors, many actors, many eras.  But one of the big things that has always stayed constant is the address.  When Sherlock Holmes first meets John Watson, they decide to rent a flat (which is like an apartment in England) run by landlady Mrs. Hudson.  Though John would move out on occasion, Sherlock would stay a constant presence, seeing clients in those very rooms, keeping experiments in the fridge and using the walls for target practice, much to Mrs. Hudson's chagrin.  221B is as much a part of Holmes canon as any character.
So there's a short list, but there are many more stellar examples out there.  I hope my new place can become as much of a happy part of my life as many of these homes have been.  What about you, Geeklings?  What are your favorite houses and homes from fiction?  Post away in the comments section.
May all your homes be as cozy as hobbit-holes, and until next time, End of Line.