Happy December Geeklings!
It's finally here.  My favorite time of the year.  And before I keep rhyming, why don't I get us all super excited with some geeky stuff coming down the pipeline (or is it chimney?) for the 2016 holiday season.
As we all know by now, it's never truly the holiday season unless the Doctor pops in for a visit.  And seeing as how it's been a whole year since we've had any new Doctor Who episodes, I say we are long overdue.
Last year's holiday episode is still one of my all-time favorite DW eps ever!  And the new one has a superhero!  Can't wait!
And a Doctor Who holiday special is a nice lead-up to the new year, when Sherlock will finally be back!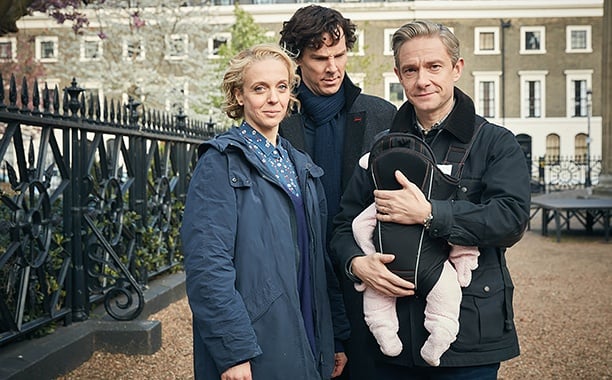 And with baby blues, from the looks of it 😉  It's been almost a year since we've seen them as well.  This is a question fans ponder about repeatedly online, but it bears repeating here; what does the BBC have against giving it's fans what they love in a timely manner?  WHY?!
Pentatonix has a Christmas Special on Dec 14th, likely to promote their new holiday album.  They're awesome, so let's watch.
Put a hold on one of their previous holiday albums here.
And we have another holiday season in a Galaxy Far Far Away, with Rogue One coming out December 16th.
And nothing says all is merry and bright quite like assassin's battling it out during the Spanish Inquisition.  That'll come with the film version of the video game Assassin's Creed out December 21st.
So there's a short list.  Anything I left out?  What are you most excited for this holiday season?  Post away!
The guys on Regular Show are going to play us out, and until next time, End of Line.