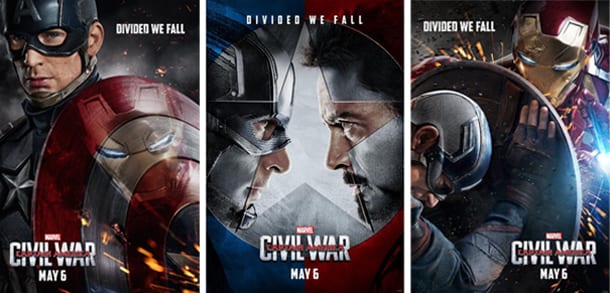 It's here geeklings!  Our first look at this May's next Marvel blockbuster Captain America: Civil War.
WOW!  HOLY COW!  OH MY GOSH!  I JUST… WHAT THE?  HOW DO I?  HOW?  WHAT?
*ahem*
There's a lot to absorb and dissect here.  Entertainment Weekly does a really great breakdown of the trailer, but a couple of highlights: more Bucky! (YAY!) But people are out for Bucky (BOO!)  Cap tries to intervene (YAY!) but there's something called the Sokovia Accords, which may be the cinematic version of the Registration Act featured in the graphic novel version of Civil War this film is based on (Boo?).  Clearly everyone is divided (BOO!) and Iron Man is clearly on the side of 'let's get Bucky and prove we're good guys by falling in line' (ALSO BOO!)  We get glimpses of various characters here (YAY!) including Black Panther (YAY!) but also Thunderbolt Ross, who we last saw in The Incredible Hulk (BOO!)…as you can see, I'm clearly torn on several parts.
But there's fighting amongst the good guys.  Just…so much fighting!  And it breaks my little Marvel fangirl heart!  You guys are friends!  Don't fight!  You're making me sad!  The one line that really stuck with me after watching the trailer came from Iron Man.  After Cap says "I'm sorry Tony.  You know I wouldn't do this if I didn't have a choice.  But (referring to Bucky) he's my friend."  Tony replies "So was I."  And the look on his face when he says it?  BOOM!  Right in the feels!
So yes, this is going to be intense.  What do you think readers?  Are you stoked for Civil War?  Who's side are you on?  Post away in the comments and don't forget to check out Avengers: Age of Ultron and the rest of the Marvel Cinematic Universe.
Switching gears ('cause I need some happy after all that sad) we got some very exciting news from the ongoing saga that is the revival of MST3K (I may have mentioned it, once or twice).  One of my all-time favorite people in entertainment is coming aboard.  Who could it be?
EEEEEK!  Felicia Day!  That is so AWESOME!  OK, this has to be a thing now!  If I wasn't rooting for this revival before (and let's face it, I totally was) I certainly am now!
Ah, that's better.  I needed the happy!
Until next time, End of Line.