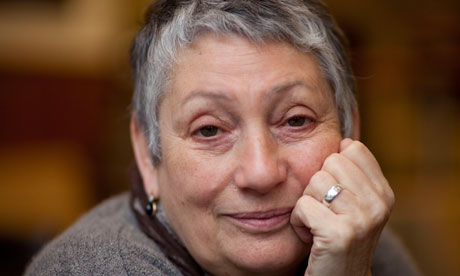 Ludmila Ulitskaya is a Russian novelist. A very good Russian novelist! How do I know? I read her books. If I didn't, I would have given you a list of her awards which would have taken almost a page just to prove that she is a very talented writer. Do we really need to know what other people think about her books if we have a chance to read them ourselves?
Her first book Sonechka (diminutive and affectionate form from Sophia) happened to be in my hands half an hour before I was going to fall asleep feeling really exhausted after a long hectic day. I ended up falling asleep almost the time I was supposed to wake up, because I could not stop reading…and I could not stop crying… Why was I crying? Sometimes because it  was really very sad, sometimes it was really very funny, and sometimes I was crying because I felt really happy…Unforgettable experience!
We have more than 30 books by Ulitskaya in Russian at VPL :), and only 2 in English:  Medea and her children  and Daniel Stein, interpreter: a novel in documents.
Don't miss your chance!